Continuing the discussion from Date math with Keyboard Maestro:
Thanks to @ComplexPoint for the shell script using date command in the above post.
I just reviewed this subject, this need, and I don't see a succinct way of doing it using all native KM ICU tokens/functions, starting with a BaseDate in this format: YYYY-MM-DD, that is NOT the current date.
But maybe I've missed something. @peternlewis, or anyone, how would this be done in KM?
I've read the KM Wiki Dates and Times and several other articles and forum posts. Didn't find an example or solution anywhere.
Based on the script by @ComplexPoint, I built this script: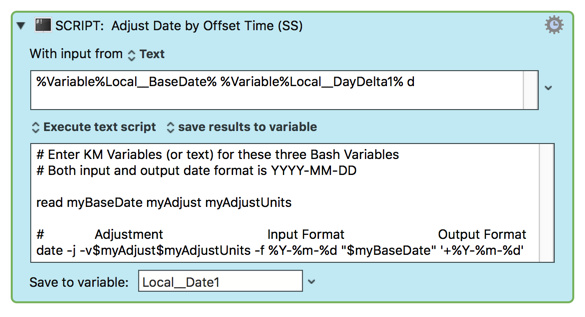 Bash Script
# Enter KM Variables (or text) for these three Bash Variables
# Both input and output date format is YYYY-MM-DD

read myBaseDate myAdjust myAdjustUnits

#              Adjustment           Input Format            Output Format
date -j -v$myAdjust$myAdjustUnits -f %Y-%m-%d "$myBaseDate" '+%Y-%m-%d'

These two KM Variables would obviously need to be set in the KM Macro prior to this:
%Variable%Local__BaseDate% %Variable%Local__DayDelta1%
I'm trying to make it as reusable as possible, and by putting the KM Variables outside the script but at the top of the Script Action really helps.
I am a very novice shell coder, so I'd really appreciate a good review/revision of this script.
Is there a better way to read stdin?
To make it completely reusable, the format for the input date and output date needs to be an input to the script. How could this be done, but use the current format as a default?
All suggestions welcome!