I use the Contexts app to provide Windows-like alt+tab functionality on macOS. Basically, tap option+tab to go back to the previous window. Keep tapping it to cycle backwards in time. It's similar to some other apps that do the same thing, and it's functionally similar to macOS's native cmd+tab, but isn't limited to switching between apps.
I'm trying to set up a macro that will lay out the last three windows I had open in three clean columns. I can do it with two windows pretty easily: the "Activate last application" action works robustly enough for my needs.
However, there seems to be no built-in way to switch to the previous two windows. So, I thought I could simulate Contexts's window switching in order to facilitate the macro.
Here we come to the problem: when I simulate opt+tab, KM is simply pressing tab.
The macro (I also tried using a "hold the option modifier, press tab twice, then release the modifier" approach, hence the diabled actions at top and bottom):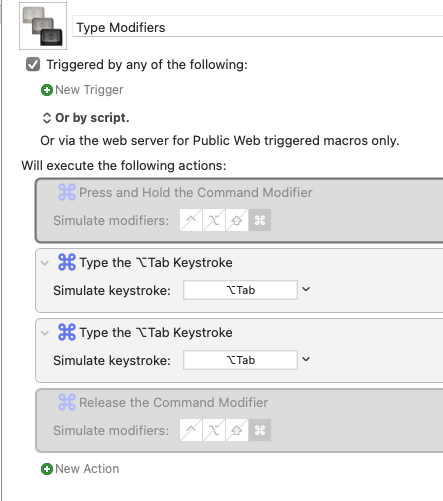 Simulating keypresses also wouldn't work with cmd+tab. It still just simulated tab presses, without the modifier.
As per usual, I am probably missing something simple. Any guesses?