There have been couple of recent posts asking about using KM to click on particular elements on web pages.
Here is a generic macro which clicks on the first item (in Safari or Chrome) which matches an XPath expression in a KM variable.
(with the path //*[@id="search-button"] for example, it will just click on the Search button on this page.
Click the first Web element that matches an XPath.kmmacros (4.8 KB)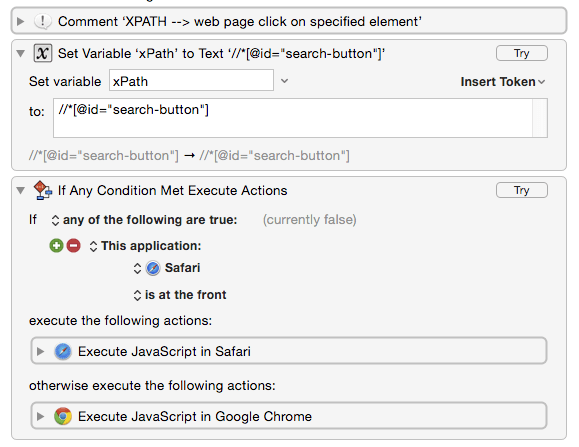 XPath queries work in Safari and Chrome.
One way of getting the XPath to an element (for use in either browser) is to use Chrome's Copy As Xpath command:
Ctrl-click the clickable element of interest in Chrome
Choose Inspect Element
Select the relevant HTML element (typically an <a> element)
Ctrl-click again and choose Copy as XPath
Paste into the value field of the macro's Set Variable action
The .js code in the Execute JavaScript in Safari|Chrome actions is the same:
It:
Retrieves the kmvar.xPath variable from the browser document object
assumes that its value is a tested XPath expression, and passes it to the document.evaluate() function
clicks the first matching element on the front page in the browser
(function (strPath) {
    (function (e) {
        if (e.fireEvent) e.fireEvent('onclick');
        else {
            var o = document.createEvent('Events');
            o.initEvent('click', true, false);
            e.dispatchEvent(o);
        }
    })(
        document.evaluate(
            strPath, document, null, 0, null
        ).iterateNext()
    );
})(document.kmvar.xPath);