I'm writing a macro to compare two DVD queues and produce a list of duplicate entries. I have several macros that compare data like this: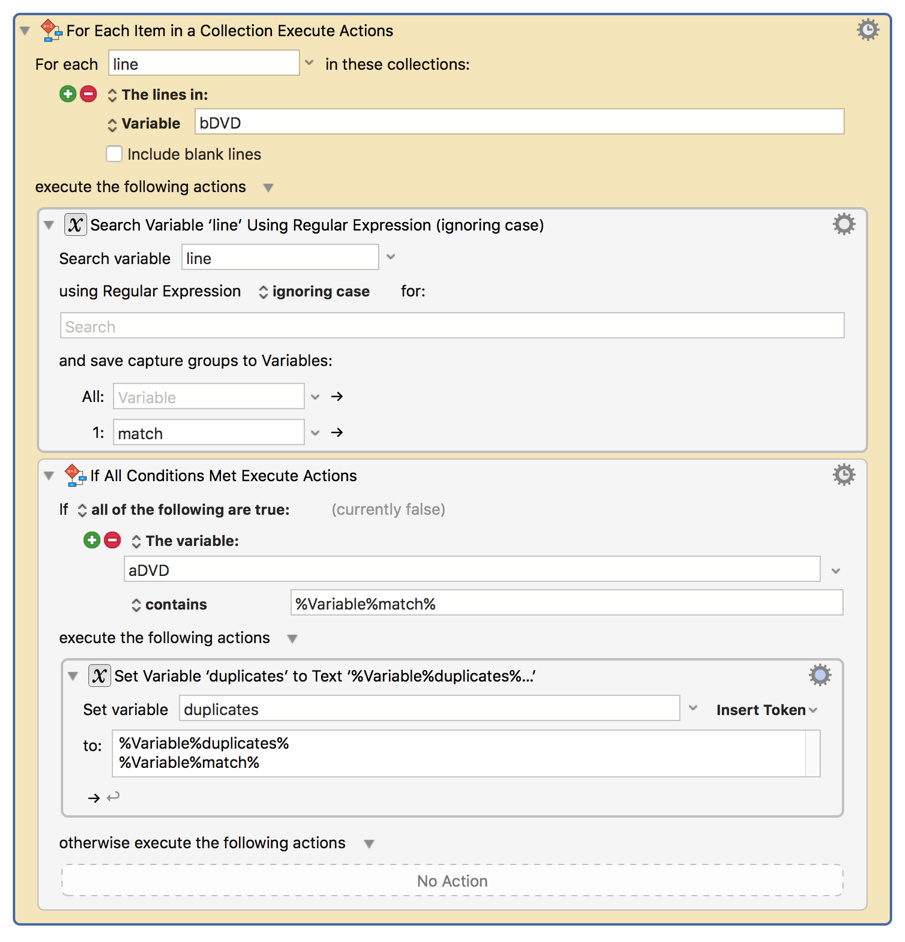 I'm stymied with the regex, and then how to apply it, since I cannot use my "for each line in" method, as the regex (I think) I'd need includes newlines. Any help appreciated
Here is an example of how the information is formatted. I've marked the titles in bold for readability. Please note that "rated" always follows the title, and a number always precedes the title; however, the number can be any number of digits long (though I doubt I'll ever have a thousand items in a queue). Additionally, some titles contain numbers, symbols etc.
Rate 5 starsRate 4 starsRate 3 starsRate 2 starsRate 1 stars
Blu-ray
MOVE
REMOVE
5
Sherlock: Series 2: Disc 1
rated 4.8 stars
4.8
Rate 5 starsRate 4 starsRate 3 starsRate 2 starsRate 1 stars
Blu-ray
Short wait
MOVE
REMOVE
6
Sherlock: Series 2: Disc 2
rated 4.8 stars
4.8Rate 5 starsRate 4 starsRate 3 starsRate 2 starsRate 1 stars
Blu-ray
MOVE
REMOVE
42
Divergent
rated 3.9 stars
3.9
Rate 5 starsRate 4 starsRate 3 starsRate 2 starsRate 1 stars
Blu-ray
MOVE
REMOVE
43
Fast & Furious 6
rated 4.3 stars
4.3
Rate 5 starsRate 4 starsRate 3 starsRate 2 starsRate 1 stars
Blu-ray
MOVE
REMOVE
107
Marvel's Daredevil: Season 1: Disc 1
rated 4.6 stars
4.6
Rate 5 starsRate 4 starsRate 3 starsRate 2 starsRate 1 stars
Blu-ray
MOVE
REMOVE
108
Marvel's Daredevil: Season 1: Disc 2
rated 4.6 stars
4.6