Hi
I have a problem which on my system and those of my colleagues.
We are a graphic design company and use the Adobe Creative Cloud.
This current problem is in Illustrator.
When I copy a certain object, then Illustrator hangs for about 3 minuttes.
But if Keyboard Maestro is not running, then the copying happens instantly.
I have contacted Peter about this and he has been very helpful in trying to troubleshoot it.
We have tried to do the clipboard debugging but I ended up having all flavours checked before it works instantly.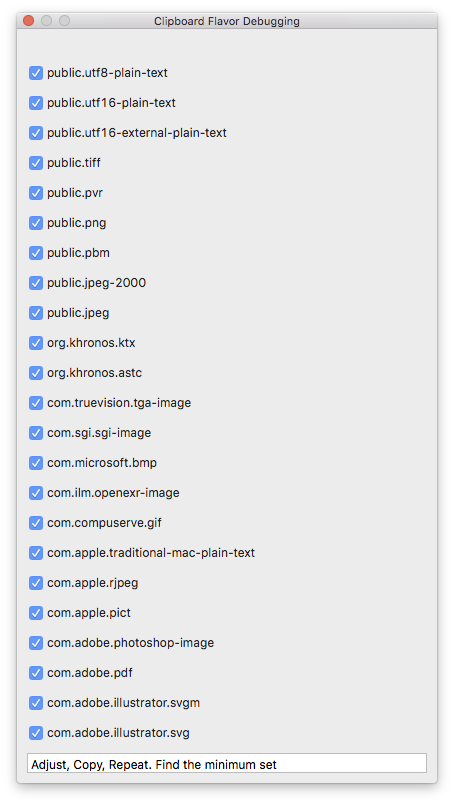 I have also tried to examine the clipboard with this command in the script editor:
the clipboard as record

Then the script editor hangs.

I hope somebody on this forum, which also have Illustrator CC2015 are willing to help me test is only on our systems or it is more common.
Here is an Illustrator-file which I have used to reproduce the problem: http://cl.ly/3r251v0W1b0k (external link due to sizelimit in the forum).
It consist of only one object.
To replicate the issue, then make sure the KM Engine is running. Open the Illustrator-file and copy the object. If it makes Illustrator hang, then I would like to hear about it.
I am running on OS X 10.11.3, MacBook Pro 17", 16 GB Ram, 500 GB SSD.
My colleagues are using OS X 10.10.5, iMac 27", 16 GB Ram, 256 GB SSD.
Thanks for your help.