I'm having some difficulty with dictionaries and accessing the keys to return a value. Here is my scenario:
I want to create a dictionary of musical instruments - dictionary name "partName_Abb." The key will be something like "1st Violin." The value will be "Vln1." This dictionary will be loaded with lots of instruments and I want KM to do one of the two ideas below:
Get the name of the application's window (%WindowName%1%). This window CONTAINS the name of the instrument along with other info. I would like KM to search through the dictionary and find the correct key that corresponds to the name contained in the front window and type the dictionary's value into a "Save As" dialog box.
So in the above example's dictionary: The window name would be "48548 - 1st Violin" I would need KM to search the dictionary to find the key word that is contained in this window name "1st Violin" then perform a "Save As" and typing the value "Vln1" in the dialog box.
-OR-
Look into the menus of the application where a list of these instruments are located and cycle through the menus where the menu item will be searched through the dictionary to find the correct key then the value will be typed into a "Save As" dialog box.
The only difference between the two options (other than window vs. menu) is that the menu has the exact name and the window has the name along with a filename, a hyphen and some spaces which I find difficult to extract to get JUST the instrument name.
#1 seems to be the most doable but I'm wondering your thoughts?
Is there a way to substitute "Violin 1" in the pix below with the value's result? It would great to be able to use a token here but I'm not sure which or if I'm thinking through this correctly (I tend to believe the latter).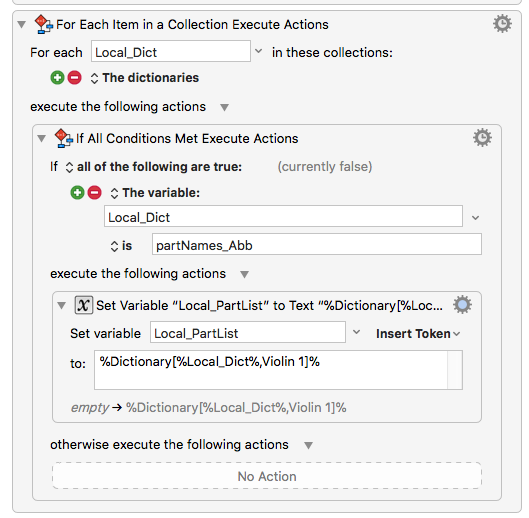 FWIW: I've read as much as I can on KM Dictionaries and everything on this forum. Unfortunately the documentation seems 1/2 done for those of us just learning KM. If the main Dictionary Wiki page showed a complete example it would have saved me a ton of time wrapping my head around the way KM handles them.
Thanks for any help,
Steve