I've been trying and failing to come up with a more efficient way of editing the last run macro then going to the editor and sorting through macros by date used, but this workaround I've arrived at in the meantime seems useful enough to be worth sharing now. Using KM8's Trigger Macro by Name action's new ability to accept parameters, you can now easily tweak any macro by "searching" for it in Trigger Macro by Name once, then accessing it again through the same hotkey or other trigger you have assigned to Trigger Macro by Name. Since Trigger Macro by Name, like KM's other built-in search bars, now keeps your last input in memory, tweaking a given macro is now as quick and easy as invoking the TMbN trigger and hitting Enter.
Edit Macro by Name.kmmacros (2.7 KB)

Example:
Searching for "KM Forum -- Paste Script Block" after "Edit Macro by Name//":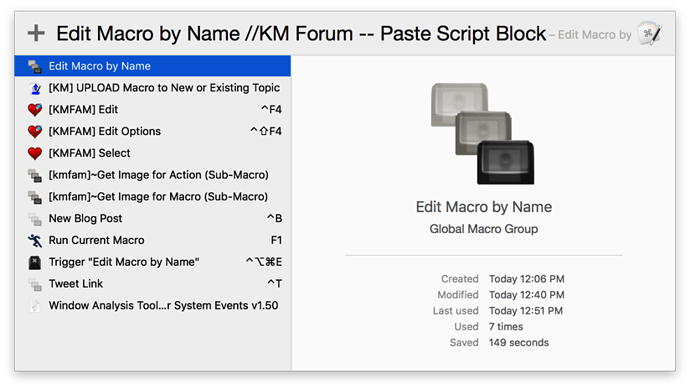 selects the macro, puts it into an editable state, and activates the KM editor: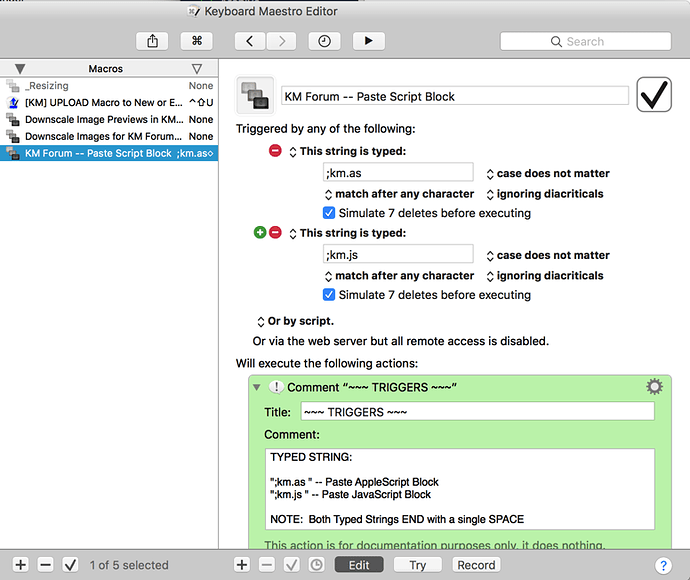 For convenience, I've also made a very simple companion macro that pre-fills the TMbN search field, so you can just tap the right arrow key (because the search field input is initially selected, so typing immediately will overwrite the pre-filled contents) and start typing the name of the macro you'd like to edit.
Trigger "Edit Macro by Name".kmmacros (1.5 KB)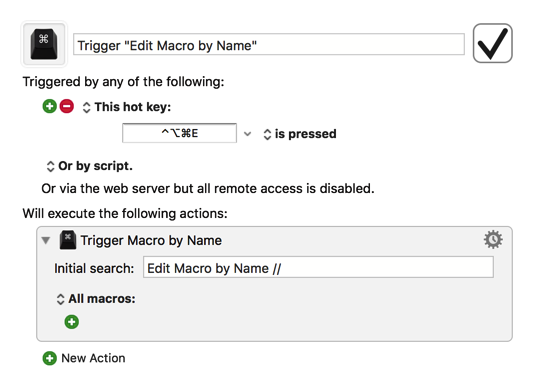 (I tried to automate the right arrow key tapping as well, but was unable to get that to work)
The major downsides to this system is that it cannot distinguish between macros with the same name, and that macro names must be entered in full for it to work. Obviously this is not ideal, but hopefully this workaround will prove useful to others who also go back and forth tweaking certain macros, as it's the fastest method I've found to do so thus far.