I am trying to create a csv file that contains all of the files in the directory and their tags.
While I am aware of the command line tool Tag, it isn't a solution for me as I intend to use this macro on several machines and installing tag on all of them becomes cumbersome and difficult.
Using these two macros gets me really close: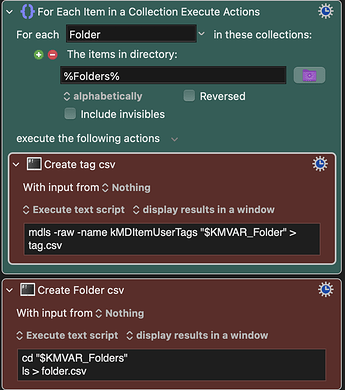 Create tag csv generates me a file that contains tags in this format
(
Red, Orange
)
and Create Folder csv generates me a file that contains the ls output in this format:
Folder1
Folder2
My end goal is to export a table in this format:


This script is going to run periodically so that I can track the contents of a various directories, their tags, and create csv outputs that represents their contents/tags which I will link to in a master excel document
Any ideas on how I can move forward is much appreciated!