Hi Steve,
Are these checkbox choices meant to be different from these two tags that are always inserted regardless of whether the boxes are checked or not?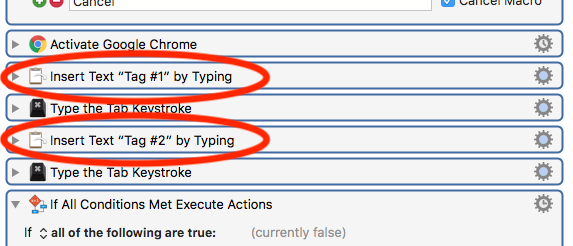 If not, it seems like you should be able to resolve this issue by disabling or deleting these Insert Text options, so that only the checkbox options are reflected. If they are meant to be different, and you always want to include these first two tags while also having the option to include or not include the additional choices based on their checked status, it seems like what you have should already be working.
If the two checkbox choices are meant to be different from the current "Insert Text" tag 1 and tag 2, and the current macro isn't working as you expect even though it seems like it should be, please try
A) uploading the full macro (though the image helps, it's unfortunately not always enough to be able to see what's going wrong or attempt a fix)
B) posting the kind of output you want to be getting, and what the macro is actually producing.