I'm using KM 9.2 on MacOS 11.5.1.
I'm trying to recreate Keyboard Shortcuts used in Gmail so they work in MacOS Mail. Gmail does not require modifier keys to perform actions.
For example, in gmail, if you have KS turned on, and hit the e key, it archives the email.
Apple Mail expects ⌃⌘A
Thanks to ccstone's List Windows macro, I created a group that requires the window title to contain "All Inboxes"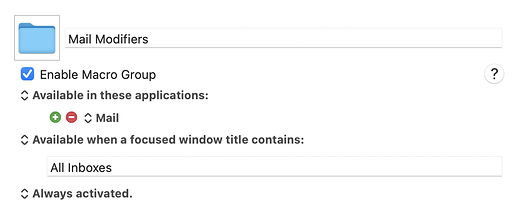 Then I created a few macros, here is "Archive email":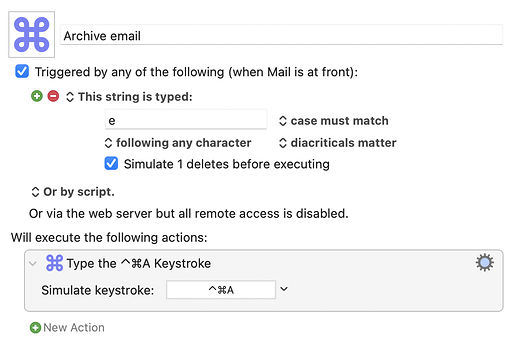 This seems to work, however, if I have Mail highlighted and then bring up spotlight search using ⌘-Spacebar and start typing any of my replacement keys, they get caught by keyboard maestro because it seems to think Mail is still the active window.
How do I get KM to ignore keystrokes entered into spotlight search? (Is this a rule to add to my macro group?
Is it obvious why my Archive key only seems to work with "This string is typed" and not a normal hotkey?
I searched through the Macro Library and did not see an existing library focused on this "transition from gmail to Apple Mail" problem. Has anyone else made this transition / created a library to do this that is already better / more complete?
Background
I'm looking to move my email out of gmail and gsuite accounts into the coming Apple mail to get my communications away from Google's all seeing eye.
Mail Modifiers Macros.kmmacros (9.2 KB)