NOTE:
You can still try this if you want, but I'm going to put a video together to explain the point I was hoping to make. Live and learn, huh?

ATTENTION All Macro Developers!
All of you who create macros and upload them to this forum, there's something very important I want to demonstrate for you. It's a simple demonstration, and won't take hardly any of your time.
This is VERY important.
Just 3 simple steps:
---
Step 1
Download these 2 simple macros, import them, and run Main Macro v1:
Example Macros v1.kmmacros (2.8 KB)
---
#Step 2
Now, DELETE those two macros,
then import these and run Main Macro v2. These are the same macros as v1, except I changed the names and text to "v2":
Example Macros v2.kmmacros (2.8 KB)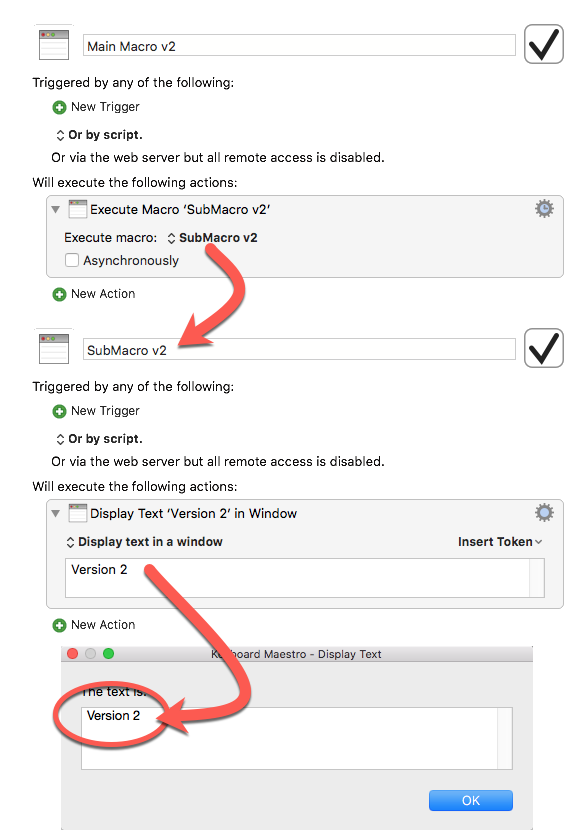 ---
#Step 3
Delete those macros, then do the following:
Import the v1 macros.
Import the v2 macros,
Run Main Macro v2.
##What do you think will happen?
---
Note that this is a trick question, and the result is the actual point of this exercise.
Please discuss below.
###Once enough people understand the issue, I will explain my solution, and hopefully there will be enough of you so that my solution can gain some momentum.