2 Macros to Delete Current File in Preview.app
I often have temporary files open in Preview that I need to do something with, and then I want to get rid of them.
Today I created two macros which are designed to delete the front-most file in Preview.
(Note: Technically, files are moved to the trash, not deleted, but you get my meaning.)
Here's the first macro (it's the more complicated of the two):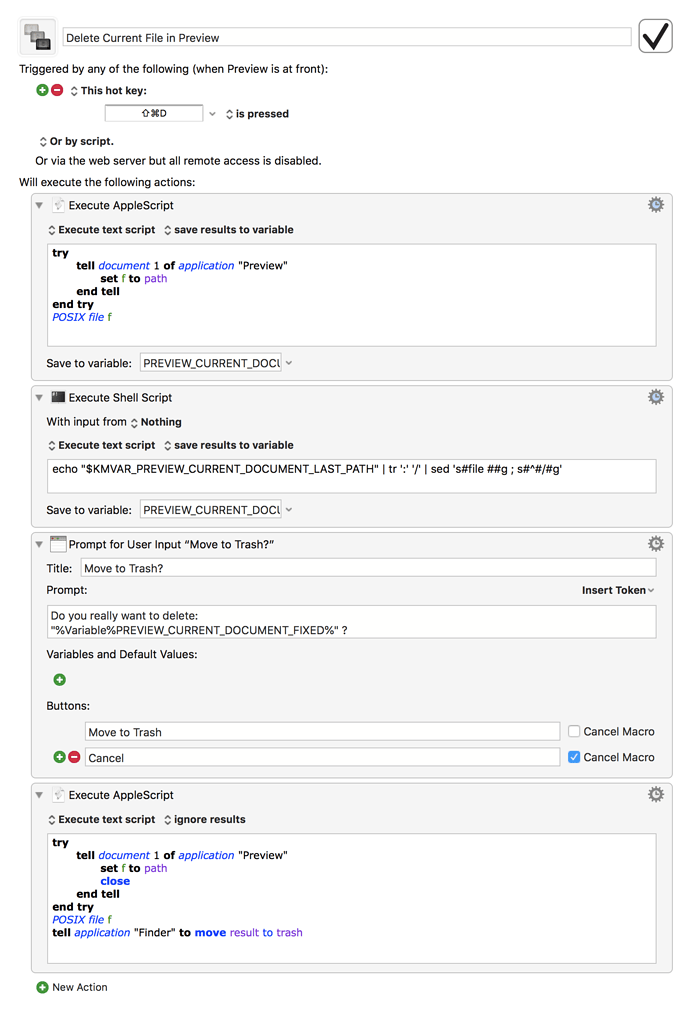 Press ⌘⇧D while in Preview.app and it will prompt you to see if you want to delete the current document. It will show you the filename to help confirm that you are getting rid of the proper file.
If you confirm, it will close the document and move it to the trash. It works properly with tabs and multiple documents in the same window.
The second macro (not shown in the image) is mostly the same thing, except for two important differences:
It used ⌘⌥D for a keyboard shortcut

It will NOT prompt for confirmation, it will simply close and delete the current document.
I hope these are helpful! Tested on Mac OS X 10.13.6 with Keyboard Maestro 8.2.4
2 Preview Macros.kmmacros (6.4 KB)