Hi. New here; be gentle.
Loving KM, obviously. I have a small palette starting to build for common procedures in Logic Pro, triggered by a secondary mouse-button click programmed to a keystroke.
I'm wondering if it's possible to have a separate palette for each editing space in the main window. For example, I'd like midi transform macros to appear when my mouse is hovering over the piano-roll and audio region editing macros to appear when my mouse is in the arrangement space: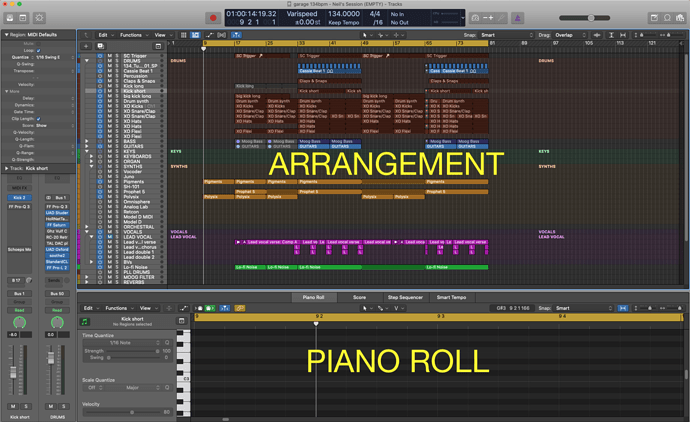 I can get separate palettes to appear for different windows, but I'm specifically wondering about the editing spaces within this main window, as that's where I spend most of my time.
I'If this isn't possible, then perhaps there's a decent alternative way of working. For example, opening the palette could show me a few options like "MIDI TRANSFORM", "REGION EDITING", "AUTOMATION" etc, and each would be a submenu, from which you could pick the corresponding macros. Are submenus in palettes a thing?
I've gone pretty deep with another macro which automates changing my monitor and headphone routing whenever I click low-latency mode in Logic, so I'm up for getting stuck in, but this is a bit beyond my current aptitude.
As a bonus question, is there a way to get the palette to disappear if you click away from it?
Any help greatly appreciated!