Continuing the discussion from Find and Delete Macro Actions?:
This macro was built in response to the above request.
###MACRO:   Delete KM Actions in Selected Macro by Name [Example]
~~~ VER: 2.0    2017-11-03 ~~~
####DOWNLOAD:
Delete KM Actions in Selected Macro by Name [Example].kmmacros (17 KB)
Note: This Macro was uploaded in a DISABLED state. You must enable before it can be triggered.
---
Limitations
This works ONLY on the currently selected Macro
It searches ONLY the top-level Actions.
So, for example, Actions in another Action (like a Group Action) will NOT be searched.
I strongly recommend that you backup your macro BEFORE running this macro.
The function that searches for the match of Actions is complicated.
While I have made a number of tests, it is possible that it could fail
I think the failure would be most likely not finding a valid sequence of Actions, but I can't be sure
If you observe any unusual results, please discontinue use immediately, and notify me immediately by PM.
---
###ReleaseNotes
~~~ ReleaseNotes for VER: 2.0 2017-11-03 ~~~
Author.@JMichaelTX
PURPOSE:
Delete Sequence of Actions in Selected Macro
Note: Searches ONLY for top-level Actions in the Macro

So, for example, Actions in another Action (like a Group Action) will NOT be searched.
REQUIRES:
KM 8.0.2+
But it can be written in KM 7.3.1+
It is KM8 specific just because some of the Actions have changed to make things simpler, but equivalent Actions are available in KM 7.3.1.
.
macOS 10.11.6+ (El Capitan)
KM 8 Requires Yosemite or later, so this macro will probably run on Yosemite, but I make no guarantees.
NOTICE: This macro/script is just an Example
It has had very limited testing.
You need to test further before using in a production environment.
It does not have extensive error checking/handling.
It may not be complete. It is provided as an example to show you one approach to solving a problem.
HOW TO USE:
Enter the List of Action Names you want to delete into the first (magenta) Action of this Macro
Enter the Compare Type: "Starts with" or blank (which means exact match)
Select the Macro in the KM Editor for which you want the Actions to be deleted
Make a backup copy of this macro
Trigger this macro
MACRO SETUP
Carefully review the Release Notes and the Macro Actions

Make sure you understand what the Macro will do.
You are responsible for running the Macro, not me.
.

Assign a Trigger to this maro.
Move this macro to a Macro Group that is only Active when you need this Macro.

Should be a group where the KM Editor app is allowed

ENABLE this Macro.
.
REVIEW/CHANGE THE FOLLOWING MACRO ACTIONS:
(all shown in the magenta color)

Set Variable Local__ActionNamesToDelete
Set Variable Local__CompareType

Set to empty (blank) for exact match
Set to "Starts with" to match Actions that start with your list to delete
TAGS: @KM @Actions @Edit @AppleScript
USER SETTINGS:
Any Action in magenta color is designed to be changed by end-user
ACTION COLOR CODES
To facilitate the reading, customizing, and maintenance of this macro,
key Actions are colored as follows:
GREEN -- Key Comments designed to highlight main sections of macro
MAGENTA -- Actions designed to be customized by user
YELLOW -- Primary Actions (usually the main purpose of the macro)
ORANGE -- Actions that permanently destroy Variables or Clipboards,
OR IF/THEN and PAUSE Actions
USE AT YOUR OWN RISK
While I have given this limited testing, and to the best of my knowledge will do no harm, I cannot guarantee it.
If you have any doubts or questions:

Ask first
Turn on the KM Debugger from the KM Status Menu, and step through the macro, making sure you understand what it is doing with each Action.
---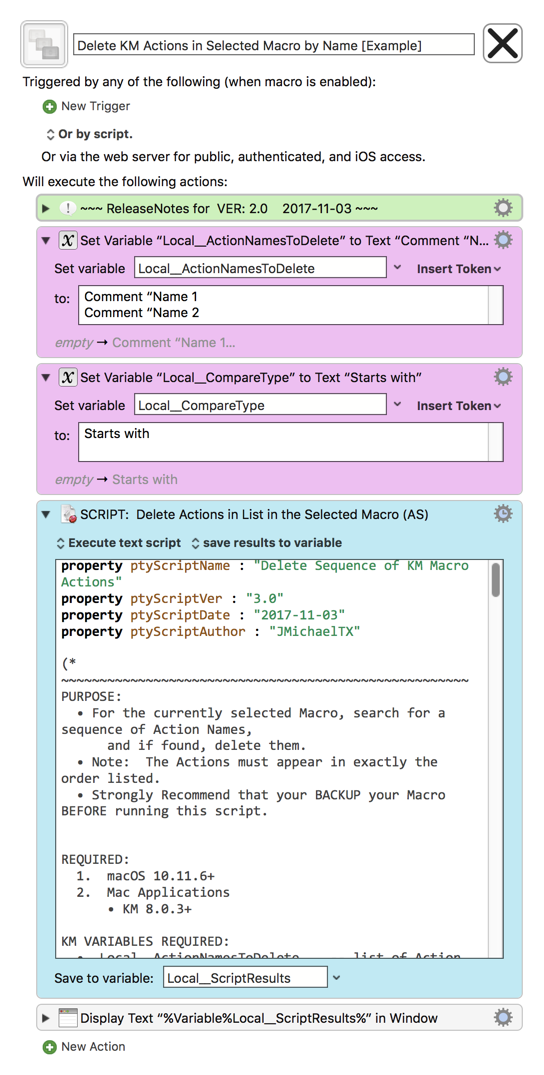 ---
AppleScript
property ptyScriptName : "Delete Sequence of KM Macro Actions"
property ptyScriptVer : "3.0"
property ptyScriptDate : "2017-11-03"
property ptyScriptAuthor : "JMichaelTX"

(*
~~~~~~~~~~~~~~~~~~~~~~~~~~~~~~~~~~~~~~~~~~~~~~~~~~~~~
PURPOSE:
  • For the currently selected Macro, search for a sequence of Action Names,
      and if found, delete them.
  • Note:  The Actions must appear in exactly the order listed.
  • Strongly Recommend that your BACKUP your Macro BEFORE running this script.


REQUIRED:
  1.  macOS 10.11.6+
  2.  Mac Applications
      • KM 8.0.3+
      
KM VARIABLES REQUIRED:
  •  Local__ActionNamesToDelete    -- list of Action Names to Delete (one per line)
        
REF:  The following were used in some way in the writing of this script.
  1.  https://forum.keyboardmaestro.com/t/find-and-delete-macro-actions/8452
~~~~~~~~~~~~~~~~~~~~~~~~~~~~~~~~~~~~~~~~~~~~~~~~~~~~~
*)
--- Method Used to Compare Action Names to Delete with Actual Name ---
property compareType : "" -- Set to "Starts with" or ""

### Example Input Data
# set actionNamesToDelete to {"Comment "Name 1"", "Comment "Name 2""}

set kmInst to system attribute "KMINSTANCE"

tell application "Keyboard Maestro Engine"
  set actionNamesToDelete to paragraphs of (getvariable "Local__ActionNamesToDelete" instance kmInst)
  set compareType to getvariable "Local__CompareType" instance kmInst
end tell

tell application "Keyboard Maestro"
  
  --- GET the First Selected Macro ---
  --    (Changes will be made to it)
  
  set oMacro to first item of (get selected macros)
  set actionNameList to name of actions of oMacro
  
  --- Get The Starting and Ending Index of Actions that Match the Actions to Delete ---
  set {matchStart, matchStop, actionNamesFound} to my getSeqMatch(actionNameList, actionNamesToDelete, compareType)
  
  --- IF a Match of the Complete Sequence of Actions was Made; THEN Delete Those Actions ---
  
  if (matchStart > 0) then
    --  Get List of id's of All Actions of Macro --
    set actionIDList to id of actions of oMacro
    
    -------------------------------------
    --  DELETE ACTIONS --
    -------------------------------------
    
    tell oMacro
      set macroName to name
      
      repeat with i from matchStart to matchStop
        --- We Must Delete by Action ID, NOT by Action Name ---
        --    (there can be multiple Actions with the same name)
        
        delete action id (contents of item i of actionIDList)
      end repeat
    end tell -- oMacro
    
    set AppleScript's text item delimiters to (linefeed & tab & "• ")
    
    set scriptResults to "❯❯❯ ACTIONS DELETED ❮❮❮ in Macro " & macroName & linefeed & "• Action #'s: " & ¬
      "From: " & matchStart & "   To: " & matchStop & linefeed & ¬
      "• Action Names: " & (linefeed & tab & "• ") & (actionNamesFound as text)
    
  else
    set AppleScript's text item delimiters to (linefeed & tab & "• ")
    
    set scriptResults to "❯❯❯ NO Actions Were Deleted ❮❮❮ in Macro " & macroName & linefeed & linefeed & ¬
      "Could NOT find a match for this sequence of Actions: " & (linefeed & tab & "• ") & ¬
      (actionNamesToDelete as text)
    
  end if
  
end tell -- "Keyboard Maestro"



return scriptResults

--~~~~~~~~~~~~~~ END OF MAIN SCRIPT ~~~~~~~~~~~~~~~~~~~~

--~~~~~~~~~~~~~~~~~~~~~~~~~~~~~~~~~~~~~~~~~~~~~~~~~~~~~~~~~~~~~~~~

on getSeqMatch(pMainList, pListToFind, pCompare)
  (*  VER: 3.0    2017-11-03
    PURPOSE:  Search the pMainList to Determine if it Contains
                  a sequence of Items in the pListToFind
                If it does, then Get The Starting and Ending Index# of the Item Sequence
    PARAMETERS:
      • pMainList    | List of text items to search
      • pListToFind  |  List of Items to Find in Sequence
    RETURNS:  List:  {Start Index#, End Index#} in pMainList
                          {0, 0} if sequence not found
    AUTHOR:  JMichaelTX
    COMMENT:  I'm sure this can be further optimized.  It is still a draft.
        
  *)
  local iLastMatch, iMain, iFind, oItemMain, oItemFind, numMainList, numListToFind
  
  --- CHECK FOR VALID PARAMETERS ---
  if ((class of pMainList is not list) or (pMainList = {}) or ¬
    (class of pListToFind is not list) or (pListToFind = {})) then
    --------------
    return {0, 0}
    --------------
  end if
  
  set iLastMatch to 0 -- index in MainList that matched last compare
  set iMain to 0 -- current index in MainList
  set iFind to 1 -- current index in ListToFind
  set numItemsMatched to 0
  
  set numMainList to count of pMainList
  set numListToFind to count of pListToFind
  
  ---------------------------------------------------------
  --- Loop Thu MainList To Search ---
  ---------------------------------------------------------
  --   Try to find a sequence match starting with each MainList Item --
  
  repeat with iMain from 1 to numMainList
    
    set iLastMatch to 0
    set numItemsMatched to 0
    set actionNamesFound to {}
    
    --- Remaining Items in MainList MUST be ≥ Num of Items in Find List ---
    if ((numMainList - iMain + 1) ≥ numListToFind) then
      
      set iMainSeq to iMain - 1
      
      --------------------------------------------------------
      --- Attempt to Match Seq of All Items in ListTofind ---
      --------------------------------------------------------
      
      repeat with iFind from 1 to numListToFind
        set iMainSeq to iMainSeq + 1
        set oItemMain to contents of (item iMainSeq in pMainList)
        set oItemFind to contents of (item iFind in pListToFind)
        
        --- Compare Main Item with ItemToFind ---
        
        if (pCompare = "Starts with") then
          set foundBool to (oItemMain starts with oItemFind)
        else
          set foundBool to (oItemMain = oItemFind)
        end if
        
        --- IF Match was Found ---
        if foundBool then
          --- Set LastMatch Index to Current Main List Index ---
          set iLastMatch to iMainSeq
          set numItemsMatched to numItemsMatched + 1
          set end of actionNamesFound to oItemMain
          
        else -- Could NOT match all Items
          set iLastMatch to 0
          set numItemsMatched to 0
          set actionNamesFound to {}
          exit repeat -- move to next Item in MainList
        end if
        
      end repeat -- with iFind
      
    end if
    
    --- EXIT SEARCH When All Items Found in Sequence ---
    if (numItemsMatched = numListToFind) then
      exit repeat
    end if
    
  end repeat -- with iMain
  
  --- IF All Items were NOT Found, Set Last Match to 0 ---
  if (numItemsMatched ≠ numListToFind) then
    set iLastMatch to 0
    set iStartMatch to 0
  else
    set iStartMatch to iLastMatch - numListToFind + 1
  end if
  
  return {iStartMatch, iLastMatch, actionNamesFound}
  
  
end getSeqMatch
--~~~~~~~~~~~~~~~~~~~~~~~~~~~~~~~~~~~~~~~~~~~~~~~~~~~~~~~~~~~~~~~~