MACRO: Progress Bar v1.2
NEW VERSION 1.2

UPGRADE INSTRUCTIONS

Delete the previous Progress Bar macro group before installing this version. Then everything will continue to work as befores.

CHANGES IN v1.2:

No breaking changes.
Now comes in a .ZIP file, and the Help has been moved into the file Progress Bar Help.rtfd. Just double click it to view it.
New CancelButtonDisabled parameter can be set to 1 to disable the Cancel button, 0 to re-enable it.
New CancelButtonText parameter can be used to change the text from "Cancel" to something else.
New CancelButtonColor can be set to "blue", "white", or "yellow" (default).

PRIOR VERSION 1.1

BREAKING CHANGES:

The parameter "Title" is now called "Text".
The parameter "Text" is now "SubText".

NEW FEATURES:

Help file (macro).
Cancel Button.
New "Title" parameter lets you set the title bar caption.
Progress Bar.v1.2.zip (278.3 KB)
PURPOSE:
Display a Progress Bar window:


With an optional custom title:


And some detail text: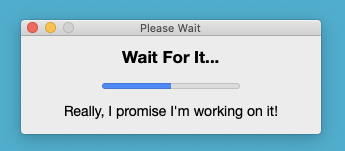 And optionally a Cancel button: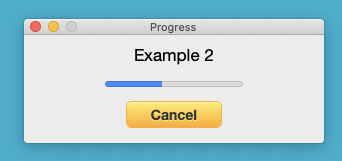 USAGE:
There's example macros in the package. Let me know if you have questions, then I'll update this section as needed.
INSTALLATION:
If you have a prior version installed, delete it first. In other words, delete the "Progress Bar" macro group.
Download the .ZIP file (above).
Unzip the .ZIP file.
The help file is "Progress Bar Help.rtfd".
Double-click the file .kmmacros to load it into KM.
It will create a group called "Progress Bar". You'll need to "enable" this group.
Check out the examples.