MACRO: Go To Macro by Name (Spotlight)
NOTE: Do not double-click the package file "Spotlight Search Prompt Resources.pkg"
It won't hurt anything, but you'll get a very misleading error message. The error message will tell you that the file is corrupted. It's not corrupted. I shouldn't have used a package file to store resources. It doesn't hurt, but it's obviously confusing.
Please just move the package file somewhere, usually in your Documents folder or a subfolder. Then leave it as is. DO NOT DELETE IT.

It's clear that I made a poor decision to store resources in a package file. I'll work something out for future releases.
---
Requires OS/X Yosemite or later.
NOTE: This supercedes Macro Spotlight
Go To Macro by Name (Spotlight).v1.0.zip (873.0 KB)
See the enclosed README file for installation instructions.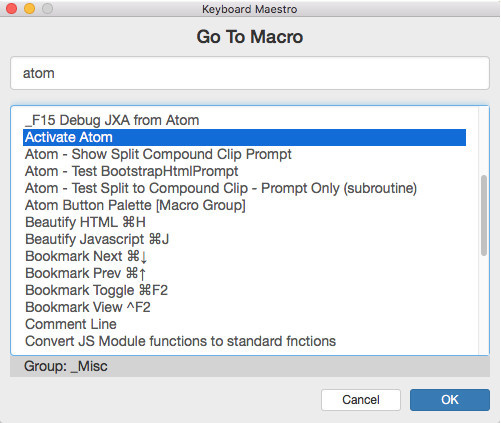 Press Ctrl+G (or assign the trigger of your choice), type a few letters, hit Enter, and find youself editing the selected macro. It's as simple as that.
When you type into the filter box, it searches the Macro Names and the Group Names (you can turn this off if you don't like it.)
The macro's Group is displayed in the status line.
Bonus!
This macro works in conjunction with the "Macro Scroll Position" Sub-Macros, to save and restore each macro's vertical scroll position in the editor.
Which means it also works in conjunction with version 2.0 of the Toggle Between Macros and Maintain Scroll Position macro, which also saves and restores scroll positions.
NOTE: You can disable the Scroll Position feature easily, if you don't like it.