Continuing the discussion from For Each Finder Selection Compress to Individual Archive?:
In response to this request, here is the macro I posted in the above thread.
---
MACRO:   Zipping Multiplle Files in Batches [Example]
~~~ VER: 1.0    2019-04-10 ~~~
DOWNLOAD:
Zipping Multiplle Files in Batches [Example].kmmacros (21 KB)
Note: This Macro was uploaded in a DISABLED state. You must enable before it can be triggered.
As always, feel free to post any questions, comments, issues, and/or suggestion you might have concerning this macro.
---
Example Output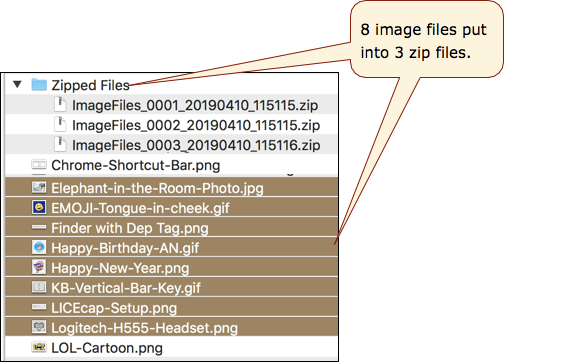 ---
ReleaseNotes
Author.@JMichaelTX
PURPOSE:
Zip Files of Selected Extensions in Batches

You can limit the number of files per zip file.
Zip file uses date/time to ensure uniqueness
Output Subfolder will be created if necessary
HOW TO USE
First, make sure you have followed instructions in the Macro Setup below.
Select one or more files in Finder
Trigger this macro.
MACRO SETUP
Carefully review the Release Notes and the Macro Actions

Make sure you understand what the Macro will do.
You are responsible for running the Macro, not me. ??
.
Assign a Trigger to this maro.
Move this macro to a Macro Group that is only Active when you need this Macro.
ENABLE this Macro.
.
REVIEW/CHANGE THE FOLLOWING MACRO ACTIONS:
(all shown in the magenta color)

Set Variable "Local__OutputSubFolder"
Set Variable "Local__NumFilesPerZip"
Set Variable "Local__ZipRootName"
IF: File Does NOT have an Image Extension;

Set the file extensions to be allowed
REQUIRES:
KM 8.2+
macOS 10.11.6 (El Capitan)
TAGS: @Zip @Compress @ShellScript @Finder
USER SETTINGS:
Any Action in magenta color is designed to be changed by end-user
ACTION COLOR CODES
To facilitate the reading, customizing, and maintenance of this macro,
key Actions are colored as follows:
GREEN -- Key Comments designed to highlight main sections of macro
MAGENTA -- Actions designed to be customized by user
YELLOW -- Primary Actions (usually the main purpose of the macro)
ORANGE -- Actions that permanently destroy Variables or Clipboards,
OR IF/THEN and PAUSE Actions
USE AT YOUR OWN RISK
While I have given this a modest amout of testing, and to the best of my knowledge will do no harm, I cannot guarantee it.
If you have any doubts or questions:

Ask first
Turn on the KM Debugger from the KM Status Menu, and step through the macro, making sure you understand what it is doing with each Action.
---