Very sorry for my poor explaination. I have attached a sample tabs to explain better.
I need 3 window tabs to open and move them to copy and paste... ( also close when it's done. )
Let me explain about the tabs.
Tab 1 : This site has the URL information for the original & new URLs. The list of URLs.
Tab 2, Tab 3 : From tab1, this tab will be opened and work on some by KM.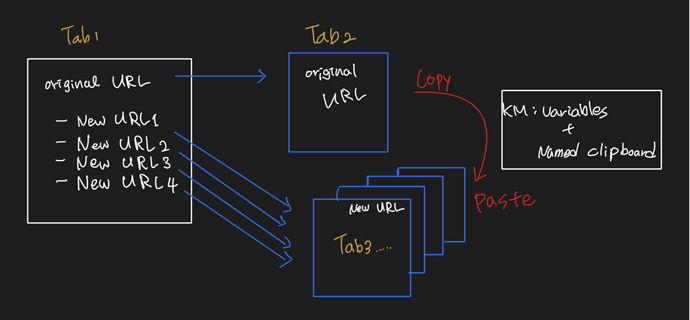 ( Sorry for the poor draw & bad writing )
Basically, I need copy and paste some content on specific URLs.
Step 1) Open Tab 1 to get the original URL.
Step 2 ) Open the original URL ... and Copy the content..
Step 3 ) Open the new URL to paste the content from the original URL. ( when it's done, Close this tab)
Step 4 ) Open a new URL tab to paste the content... until all the new URLs are done.
This is the processing.
It's basically "copy & paste" work on the specific URL.
By the screenshot, let's say ( an example ), Google com has the URL lists.
And open the URL ( amazon ).. Copy.. and Paste on github forum by some different URLs.
Copy & Paste work have been ready by KM.
But I am lost how I can list the URLs and open the new tabs, close the tabs and go back to the original source tabs... etc.
That's why I created a web page to list URLs. the URLs are 5,6 sets.
If you have a better idea to have a web page, please also give me a tip.