When electing to "display results in a window" for any execute script action, the window is drawn with a single button. The OK button is highlighted in blue, suggesting it can be clicked by hitting the Return key (which, you know, keeps your hands on the keyboard instead of requiring a mouse click).
But it doesn't respond to the Return key. I have to click.
The best workaround I could come up with is this: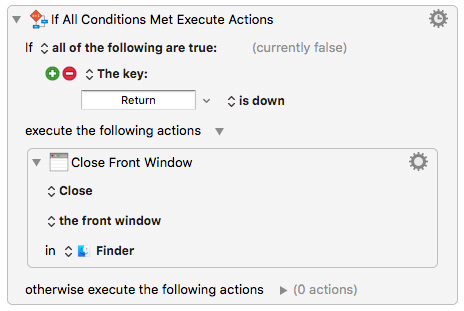 That works but requires two taps on the Return key to dismiss the window whether the trigger is key down or up. Which strikes me as a bad habit to get into .
I want the results window to stay open until I dismiss it so I have the option to copy some of the data. So sometimes I'll just dismiss the results and other times I'll make a selection to copy.
But I'd sure like to be able to dismiss it with one tap of the Return key. Any ideas?