I really hate email attachments and prefer linking to uploaded files instead. In this regard Yosemite has introduced a really convenient feature, called Mail Drop.
The problem with this is the file size. Not the allowed maximum size (5GB) but the minimum size threshold, which usually is 20MB (but may depend on the mail provider).
That means for attachments < 20MB you are still dependent of DropBox or similar services.
The good thing is that you can adjust the minimum size for Mail Drop with defaults write com.apple.mail minSizeKB. The annoying thing however is that the size will auto-reset to its default 20MB after some time.
The problem goes away if we couple the sending of an email with a KM macro that sets the minimum threshold immediately before sending.
A good hotkey trigger seems to be ⇧⌘D which is the same that we use in Mail app for sending mails:
---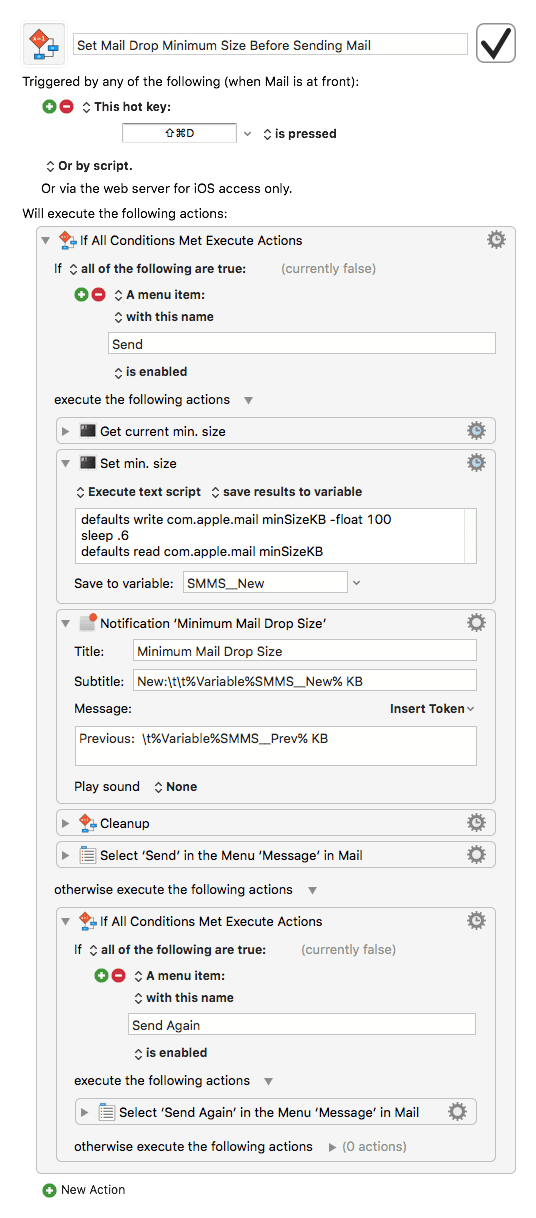 Set Mail Drop Minimum Size Before Sending Mail.kmmacros (8.0 KB)
---
This macro is kind of brute force. Does anybody know how to set the threshold persistently?