Keyboard Maestro 8.2.4 "spellcheck from word underlined in red without using mouse" Macro
I was asked how to do this by several people and @Houston.Brown here. I use this myself. All I need to say is in the Green comment box but I will say that it is satisfying and useful to me to avoid any mouse use in several Ulysses workflows I have: helps me focus in fact.
I didn't think it was, frankly, a great time saver, it is just a few system shortcuts triggered together really. However it is supercharged if you use it with @JMichaelTX 's palette which he shows below. It upped the usefulness of the macro for me by a factor of three. It works perfectly in Ulysses and Pages. I will try to modify it at some point for LibreOffice which I also own. I can't speak for Microsoft Word.
Using @JMichaelTX 's palette with this macro supercharges it. It is a set of macros more than the sum of their parts; one of the delights of Keyboard Maestro in fact when this happens and properties emerge as it were in unexpected ways via collaboration. It should be considered a necessary part of mine.
both macros uploaded inactive.
spellcheck from word underlined in red without using mouse.kmmacros (8.8 KB)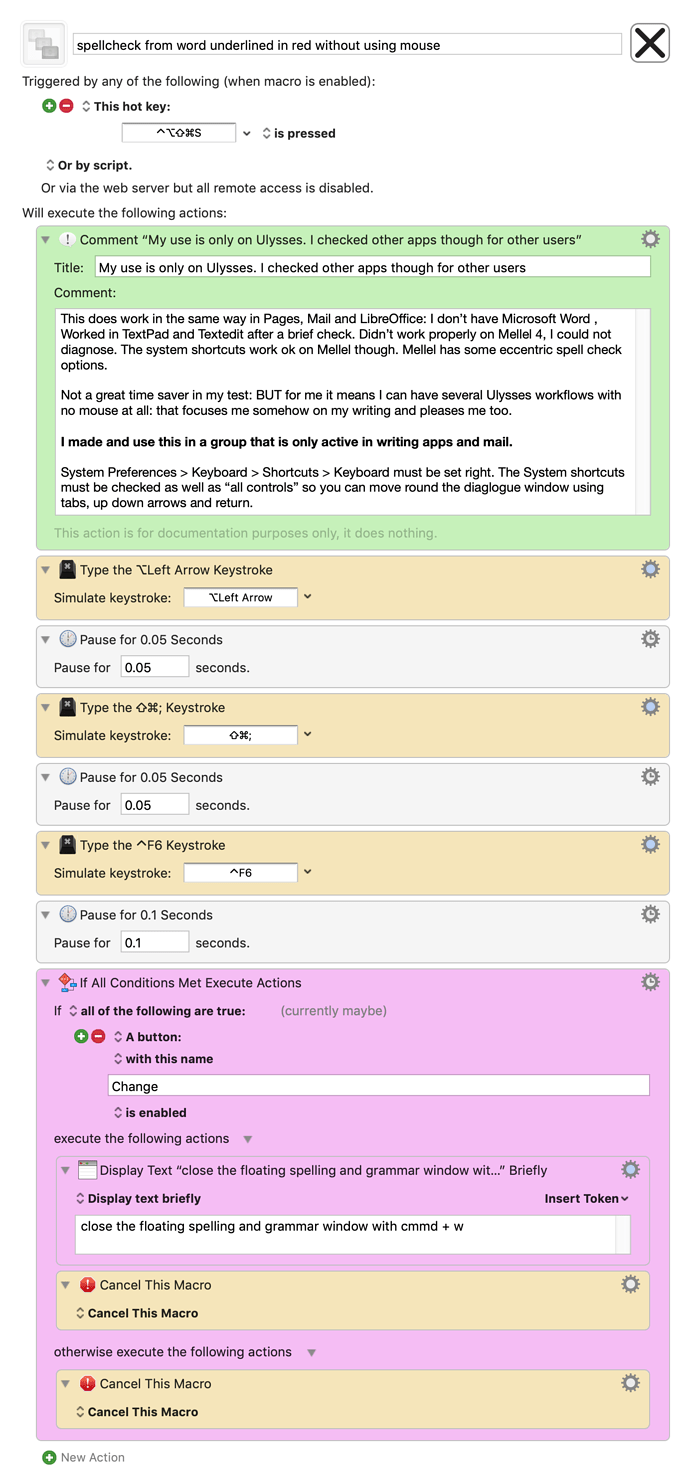 ~~~~~~~~~~~~~~~~~~~~~~~~~~~~~~~~~~~~~~~~~~~~~~~~~~~~~~~~~~~~~~~~~~~~
UPDATED: 2019-09-07 15:52 GMT-5
Per @tudor_eynon's request, I am adding the Macro Group Palette that I created to work with his great macro. You can, of course, adjust the hot keys for each Macro in the Palette to suit your preferences.