Hi everyone!
I'm excited to finally dig in to Keyboard Maestro. I'm going through the MacSparky field guide and everything is working perfectly, except for text replacement.
I'm hoping someone here can provide some insight as I'm unable to turn up any solutions on the web so far.
The issue
String replacement is successfully triggered. It seems like KM thinks the string replacement is happening successfully, but nothing is actually happening to text in my application.
My system
macOS Mojave 10.14.5
Keyboard Maestro 9.0
Things I've tried
Rebooting
Checking relevant things in the KM troubleshooting guide

In System Preferences, under Security & Privacy > Privacy > Accessibility: KM and KM Engine are enabled
Secure Input Mode doesn't seem to be an issue. I tried Onan's version of a script that detects that issue, but no apps are flagged as currently enabling secure input.

Quitting apps

Rocket (emoji app; keyboard watcher)
Paste (clipboard manager)
1Password
Terminal

Stepping through with the KM debugger (it shows no error; looks like success)
Perusing ~Library/Logs/Keyboard Maestro/Engine.log (it shows no error; looks like success) [1]
Changing the trigger string (same result with any string)
^[1]: Example log output: 2019-08-18 14:25:55 Execute macro "Text replacement" from trigger The exact case string ";hw" is typed (then deleted)
Apps tested with
Text replacement.kmmacros (1.4 KB)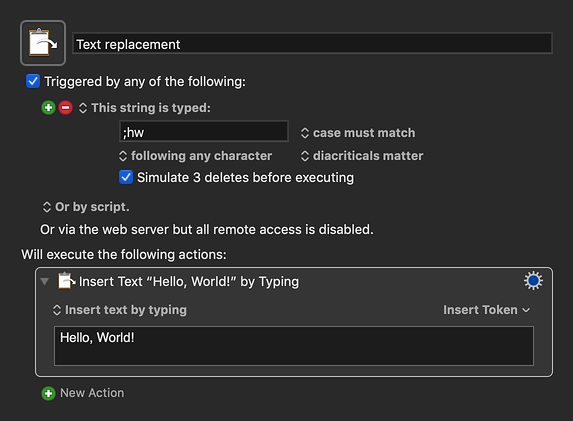 ---
Please let me know if there's any more information I can provide to clarify the problem