DOWNLOAD Macro File:
Zabobon's Dynamic Workspaces v5.02 Macros.kmmacros (590.0 KB)
PURPOSE
Save and Restore Workspaces (Positions/Sizes of Windows for Finder Folders, Applications and Webpages).
Author: @Zabobon
Tested with Keyboard Maestro 10.0.2 and macOS Monterey 12.31 (Note - these Macros need Keyboard Maestro 10 or above to run.)
(Detailed Instructions and Version Notes are in the ReadMe file. And there is a Help button available when the Macro is running.)
During the last couple of years, I had many online meetings where I arranged several Finder Windows and Apps on my monitors and had certain Webpages open. At the end of the meeting those Windows got moved and closed and I wanted a way to Restore my nicely arranged Workspace the next time I had a similar meeting.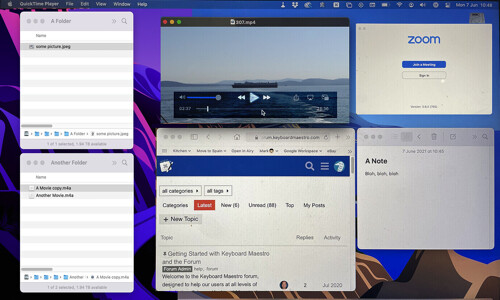 Basic Instructions, click to expand

Upgrade Instructions

Disable (or Delete) any previous Zabobon's Dynamic Workspaces Macro Group. Probably a good idea to just Disable the old Group at first in case you prefer it to the new version.
············································································································

Set Up

The Macro Group will come in disabled so, you will need to enable it to work.

Change the Trigger Shortcuts for the 3 main Macros to what you would like. I have them as:

⌃⌘S Save to a Workspace
⌃⌘R Restore Workspace
⌃⌘O Options

············································································································

Save To Workspace Macro

Position and size up to 8 open Applications and Finder Windows in a way that works well for a task. Additionally, open any URL in Safari or Chrome Website Windows and position them too (note that this Macro saves individual Window Positions - it ignore Tabs).

Once all are nicely positioned, click on the first Window that you want to save the Position/Size/Path/URL and press ⌃⌘S followed by Return to Save the Window Position/Size to the Selected Workspace. Repeat for each window you want to Save. (Click Help for detailed instructions.)

Restore Workspace Macro

To Restore a Workspace, press ⌃⌘R followed by Return to restore the Selected Workspace. (Click Help for detailed instructions.)

Options Macro

Open Options directly by pressing ⌃⌘O
Or, from either Save to a Workspace or Restore Workspaces click Options

From here you can make new Workspaces with more useful names, like "Start of Week Meeting" "Edit Review" "Zoom Studio Meeting" - that sort of thing. You can also delete Workspaces, change their names, order the list of Workspace alphabetically etc.
Version History, click to expand

Version: 5.02

• Switched over to using Keyboard Maestro 10 Subroutines Actions to make it easier for me to maintian the Macros going foward.

• Removed Option to overwrite Finder Windows if they are in an identical position to a previously saved Finder Window to simplify usage.

• Removed Option to Restore just one Window in a Workspace to simplify usage.

Version: 4.09

• Fix for AppleScript bug in macOS 12.3 which broke Keyboard Maestro's Open with Finder Action.

Version: 4.06

• Corrected typo of "minimized"

• Added Checkbox in the Save Workspace Prompt, to overwrite Finder Windows if they are in an identical position to a previously saved Finder Window in that Workspace.

Version: 4.05

• Interface Changes.

Version: 4.04

• Interface Changes.

Version: 4.03

• Replaced my Progress Bar with KM10 inbuilt Progress Bar.

• Added option to restore a single Window from the selected Workspace.

• Added an Option to Minimize other Finder Windows before Restoring Workspace.

• Interface Change for Previewing of Workspaces.

Version: 3.12 2021-11-02

• Fixed huge bug in previous version that broke Options.

Version: 3.11 2021-10-17

• Interface changes to the User Prompts to clarify when a Workspaces will be Restored and when it will be Previewed.

• Removed Auto-Postioning of User Prompts.

Version: 3.10

• Minor Interface change.

Version: 3.09

• Should work correctly on Mac Systems that are not set up with the language as English. (Before, a few of the pauses waited for certain menu items to appear and if those menu items were not in English, the Macro would pause forever).

Version: 3.08

• Added Help Button with Instructions

Version: 3.06

• Prompts now centre on screen

Version: 3.04

• More work on the Interface and fixed typos

• Added option to put Workspaces into A-Z order

Version: 2.96

• Added option to rename Workspaces

• Bug fixes

• Still more simplification of the Interface...

Version: 2.89

• A few interface changes and a couple of bugs squashed.

Version: 2.83

• Changed to allow an unlimited number of Workspaces.

• Changed to allow saving of multiple Safari or Chrome Webpages in each Workspace.

• Added Macro, "Workspaces Options..."

• Tried to simplify the interface, whilst adding more options.

• Reworked the Progress Bar to stop it vanishing and reappearing in a long Restore.

Version: 2.25 2021-07-26

• Increased number of possible saved Workspaces from 6 to 12

• If a single Workspace Name is edited, it becomes the chosen workspace (in previous versions it had to be selected again from the the dropdown list after editing which was a bit clunky)

Version: 2.23 2021-07-11

•Added shortcut keys to the Dialog Buttons - Cancel (shortcut Esc), Edit (shortcut E), Clear Slots (shortcut C)

Version: 2.22 2021-06-25

• Simplified the Clear Workspaces Macro.

• Bug fix (removed delay at the end of the Progress Bar).

• Tidied up the display of restoring Webpages on the Progress Bar.

Version: 2.21 2021-06-24

• Added a Progress Bar to give live feedback on the Windows being Restored.

• The Progress Bar lists each Window in the Workspace as the Macro Restores and also lists any Webpages that are associated with the Workspace.

Version: 2.191 2021-06-21

• Bug fix

Version: 2.19 2021-06-18

• All saved Data from v2.17 onwards will always remain in Dictionaries so, downloading this new version will not mess up any Workspaces you might have saved.

• Some interface tidying up to make things clearer.

• Reduced timeout on Pause for Applications to open fully from 1 minute to 5 seconds as I was finding Zoom restoring caused the Macro to pause for the full 1 minute every time.

• Removed the separate Macro "Edit Workspaces" and made it a part of the other three Macros.

• Added the option to Clear Slots.

Version: 2.17 21-06-11

• Stable Version allowing Multiple Workspaces to be Saved and Restored.

• Data now mostly Saved in Dictionaries.