To the geniuses of this forum,
Greetings, and a plea for patience and understanding. I am an older guy with just enough knowledge to be dangerous to myself. I have a pretty good handle on inserting text macros, but no clue as to how to use clipboards, clipboard switchers, clipboard filters and the like. I see there are many pre-written macros in Keyboard Maestro (I have just updated to version 10.0), and I am anxious to learn what they all do (read: "what some of them do") and how I can utilize them in my work. But for the life of me I just can't figure out how to test them to see what they actually do. I think if someone would be willing to take me step by step through just one or two of them I would get the idea and be off and running. For example, I see in the Clipboard Filters Group there is a macro called "Capitalize":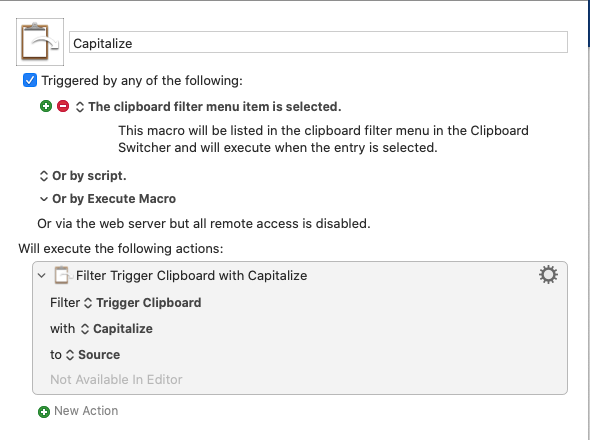 There, you see? I can't even show you what's confusing me! (unless I just now successfully uploaded a screenshot without knowing it) Basically I look at the script and it's Greek to me. What do I do with this macro? I'm sure that it's probably more than useful if I could just figure out how and where to apply it. But I'm afraid I'm the type of person who has to be shown how to do something in order to learn. My apologies. I really do like macros. I just would like to get beyond my basic understanding of them for once. I know this lacks the specificity of other requests, but anything ... Anything will probably help.
Can we start with clipboards? Visually? Somehow? Poke this key. And this happens. That kind of thing.
Sincerely,
A mildly frustrated old man.