Hello everyone,
I've got a macro that I really love to use, it's a slightly modified version of the "Activate Clipboard History Switcher" macro, that has the twist that when I keep holding the ⇧ button it clicks the search field so that I can start typing. It used to work really well with Keyboard Maestro 6, but it's not working anymore with KM7. I found the issue seems to be that something has changed with the Clipboard History Switcher window. I presume it's some sort of implementation issue, maybe an oversight on Peter's end.
The question remains, is this a bug in Keyboard Maestro or can I adjust the macro to make it work again. I've tried various things, including an AppleScript to activate the window.
Here's the macro:
Activate Clipboard History Switcher
Comment 'The Clipboard Switcher needs some time to fade in.'
Pause for 1 Seconds
If All Conditions Met Execute Actions
Click at (-50,40) from the Top Right Corner of the Front Window
The conditions are:
The front window of "front application" title is "Clipboard History Switcher"
AND
These modifiers are pressed ⇧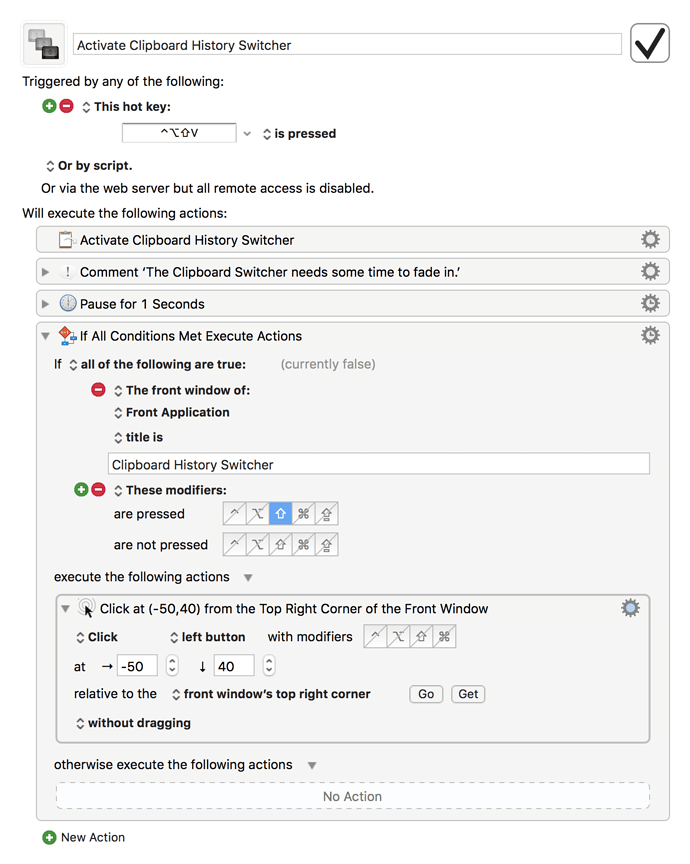 Thanks!