If I have a palette active like this one: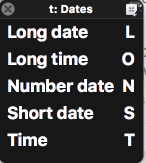 I would like to press Escape key and the palette dismisses with escape key being captured by my palette.
Right now in order to achieve this I have to add an empty action to ALL my palettes like this:

This is really annoying and I wish I could enable a dismiss key in Palette settings or perhaps make Escape key official escape key without having escape key being used up by other apps while palette is active.
I really hate having the Dismiss palette action in all my palettes to achieve this as I want to only have useful macros in my palettes and I always know that escape key will exit the palette if I change my mind.
I am sure there is no other way to get around this issue so I hope @peternlewis can add this in the future. I hope I am not alone in wishing for this.
Thank you.