Hi there!
I'm trying out keyboard maestro, and I love it!
I'm on Mac, I'm using a Magic Trackpad, I have a Stream Deck XL, I have the KM Link plugin installed and I have a license of BetterTouchTool (in case you think I could use it for this)
I'm designing a Stream Deck profile for Airmail. I'm trying to create a macro that would replicate a "Right Swipe", that I've assigned to move an email to a folder:

As I'm using the Magic Trackpad and not a mouse, I use a 2 fingers swiping gesture. As I use 2 fingers for a right click as well, I've tried to simulate a "right click and hold", a "just move" and a "release right button" actions, but it doesn't work.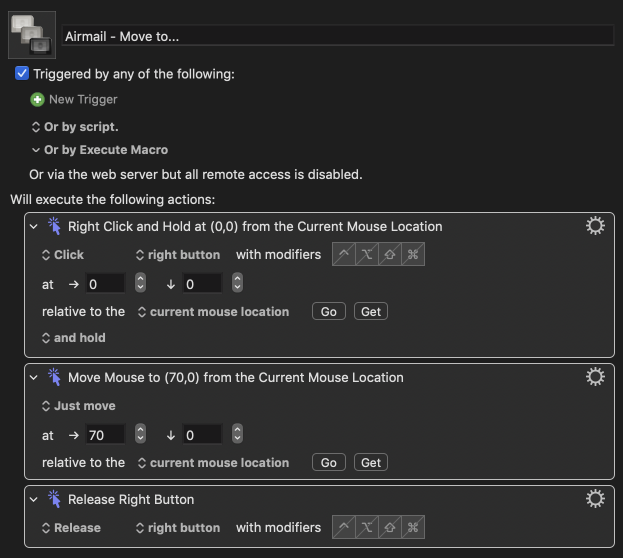 I've also tried using BetterTouchTool, to create a specific keystroke (like cmd+opt+m) that would convert to a right swipe; which I couldn't find, and trying to do the right click & hold + move + release trick but it's not available as an action (only left and middle buttons are available):


So, now I'm stuck and I can't think about any other solution ¯_(ツ)_/¯
... Any idea guys?