Any ideas why this Macro isn't triggering / functioning as intended?
A bit of background:
Microsoft Teams has (what I will call is) a bug where, after awhile, a hidden window will appear with the title Microsoft Teams Notification. This isn't really the bug, but because this window exists, if I ⌘Tab on my Mac to go from one app over to Teams and I'm not on a Desktop where the main Microsoft Teams window is present, the OS will "switch" to Teams but the front-most window will be this hidden notification window. The anticipated behavior when I activate/switch to an app using ⌘Tab on my machine (an environment that uses multiple monitors and desktops) is to have the OS switch to a desktop where that application has a window present. This is the behavior for every other app on my computer. This isn't really happening with Teams because the OS is activating Teams with the front window being this hidden notification window whenever it exists.
Hopefully I've painted a clear enough picture of the problem for which I'm trying to solve. As for a solution, I'm trying to create a Keyboard Maestro macro that will change the front-most window of Teams to the main window whenever I ⌘Tab to Teams and this dumb hidden "Microsoft Teams Notification" window is present (i.e., restoring the anticipated function of ⌘Tab on my Mac). One additional fact to note is that the name of the main Teams window (the one that should be brought to the front when Teams is activated) is not consistent — it changes depending on where I was when last the app was active. So, simply using Keyboard Maestro to select the desired window from the app's dropdown menu is not an option. Not also that I want to avoid using any move and/or click mouse type actions given the fickle nature of that solution.
The intended solution:
All that said, I think I have a fairly straightforward and simple way of fixing this behavior with Keyboard Maestro but I can't seem to get this macro to fire and it's driving me nuts.
Essentially what I'm trying to do is have Keyboard Maestro type ⌃Down Arrow followed by another Down Arrow and then Enter whenever that pesky window shows up in Teams. I can do this myself manually and it works like a charm. (It's the universal OS keyboard shortcut for toggling through the various windows of the active application.) But doing it manually is a drag and throws off my groove. (Keyboard Maestro to the rescue.)
You'll note in the screenshot below that the condition of my If Then Else statement appears as "(currently false)" but with evaluating condition results turned on, I can see that the If statement does show as "true" when I ⌘Tab from Keyboard Maestro over to Microsoft Teams and that hidden window is present. Any ideas what's going on or how to troubleshoot why this macro isn't working as intended?
I should note that:
I've also tried adding a short pause between the keystrokes but that didn't solve anything.
This macro exists in a Macro group that is enabled and set to be available in all applications, all windows, and always activated.
I've also tested that the Trigger is...you know "triggering" by swapping out my If Then Else action with a simple Alert action. (When I do this, I get the alert to fire.)
I'm sure my mistake is some super simple dumb thing that I'm just not seeing because I haven't used Keyboard Maestro in so long. What am I missing?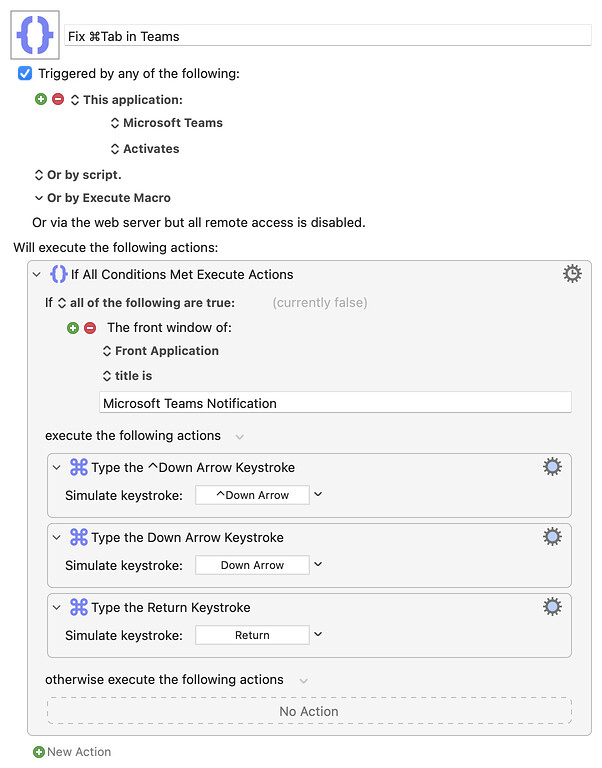 PS -- I'm using Keyboard Maestro v10.0.2 and am on macOS Monteray (v12.2.1).