I disabled Sophos Disk Encryption, and have to get on a support call with the Help Desk to turn disk encryption back on - they need to take over screen and go into Terminal, etc. I don't have time to do that right now, so I am trying to use Keyboard Maestro (KM) to close the Sophos window every time it pops up.
Here is the example popup: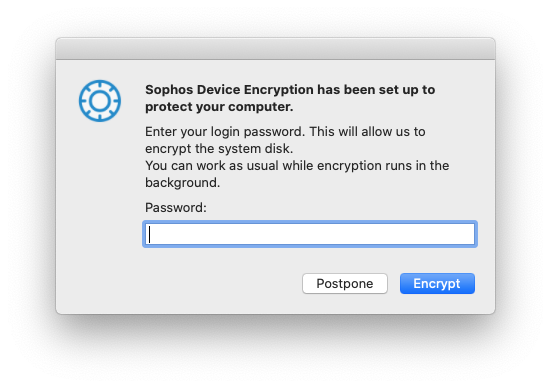 I would love for KM to press "Postpone" everything that window pops up, but attempting to use the example in the RELATED POST below did not work, which I think is because the Sophos does not have an official title?
The Sophos popup does not appear to trigger an active application being active, but the windows does come to the foreground, AND the Password field does get focus.
IS IT POSSIBLE TO:
Trigger Keyboard Maestro to auto click the "Postpone" button when the "Password" field has focus?
RELATED POSTS:
Use Keyboard Maestro to automate closing of repetitive popup windows?