Is there a way to have this macro choose my secondary display? The macro only works on my main display.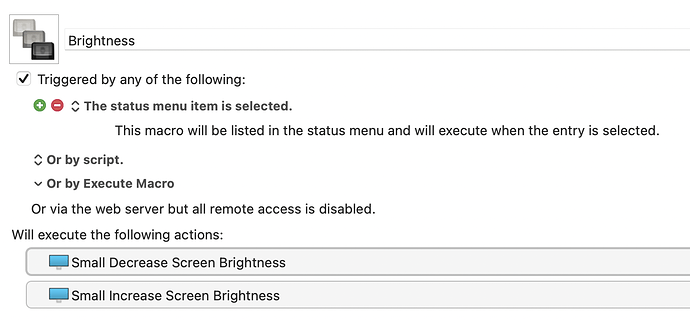 I don't know of any way to do it natively with Keyboard Maestro but I use the MonitorControl app to control my external monitor. You can set hotkey shortcuts to control any monitor with it just like you would do with Keyboard Maestro.
These actions operate by simulating the hardware brightness keystroke, so there is no control - the system does whatever the system feels like doing in response to the hardware brightness key.
Hey @BruceK I forgot to mention the other day that using a monitor control app like the one I linked to, you can have the external monitor stay in sync with your "main display" (which I imagine is an iMac?). So when you adjust the iMac display (whether using the OS shortcut or a KM macro), it will also adjust the external monitor.
Just to give you an idea of how I control my brightness, here are the macros I use to do so. Once the iMac brightness changes, the external monitor also changes.
Screen Brightness- Up.kmmacros (2.5 KB)
Macro screenshot (click to expand/collapse)
Screen Brightness- Down.kmmacros (2.5 KB)
Macro screenshot (click to expand/collapse)