Hello there,
I am trying to put some keyboard shortcuts in Adobe Lightroom on my F keys. Now I have run into a strange problem: The keyboard shortcut to rotate an image to the left is ⌘[ - yes, that's an opening square bracket. On my German keyboard layout I can type an [ by pressing ⌥5. So to rotate an image to the left in Lightroom, I have to press ⌥⌘5.
Now, if I press this combination on my keyboard in Lightroom this works. To my surprise, when I set up this very simple KM macro it did not work, but did switch to another workspace instead.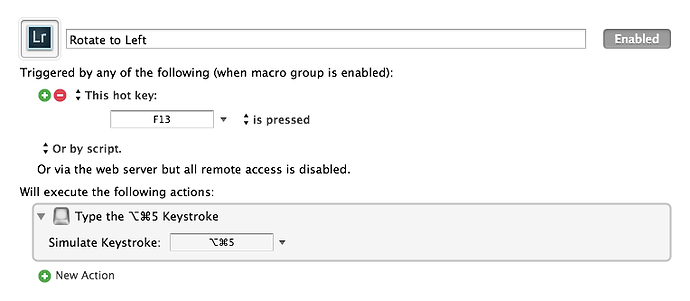 It turns out that Lightroom has two shortcuts, one it calls ⌘[ to rotate the image and another one it calls ⌥⌘5 that switches to another workspace. The interesting thing is, that if I use the shortcut on my keyboard in Lightroom it works as expected and it turns my image. If I simulate this very same key combination via KM, it does trigger the other shortcut instead.

Now my question: Is there any way to let KM simulate a [ press specifically and combine it with a ⌘ press?
Thank you!
trych