Hi
Is there a macro that can accomplish this: Change clipboard content to all caps??
Any help much appreciated!
Here's the one I use to all-caps the currently selected text. Feel free to tweak it for your own needs:
3. Make Uppercase.kmmacros (3.4 KB)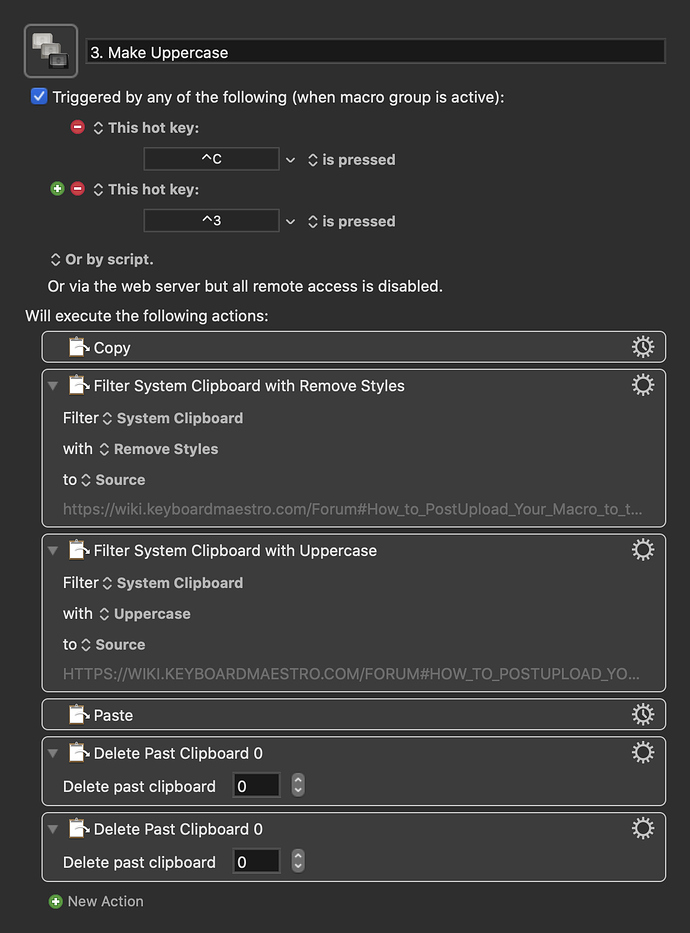 Hi
gglick
Thanks for your help!
It doesn't work here. I have a question:
The hot key is TWO keys, how does that work?
Venlig Hilsen/Kind Regards
Stig Christensen
MUSICMIND
Esperhave 34
3060 Espergærde
DENMARK
tlf. +4526212425
mail: sc@musicmind.dk
www.musicmind.dk
I'm afraid you need to be more specific than just "it doesn't work here." How does it not work? Does nothing happen? Does something happen, but not what you want? Did you enable both the macro and the macro group it's in first? Did you try highlighting some text before trying to run the macro, as that's the way this macro is intended to be used? Did you try the Interactive Help feature from the Help menu? Without more information, I can't tell you anything besides that the macro works fine for me.
As for the two hot keys, you can assign more than one trigger to any macro you like, and either one will then work to run the macro. Just click the green plus button to the left:

I'm working in Dorico - Steinberg notation program. I'm a composer and orchestrator.
I have some labels in the score that need to be All Caps like: brass > BRASS and so on.
So I select the text in Dorico and hit control+c and nothing happens.
But now I tried to "redo" your macro and now it works!!

I'm not quite familiar with the deeper functions of KM.
Thanks a lot for your help!
Venlig Hilsen/Kind Regards
Stig Christensen
MUSICMIND
Esperhave 34
3060 Espergærde
DENMARK
tlf. +4526212425
mail: sc@musicmind.dk
www.musicmind.dk