This is really a question about AppleScript (albeit triggered by KM) so I hope that's OK!
I have AppleScripts set up so I can change parameters in Logic Pro on my Stream Deck via Keyboard Maestro, but at some point recently (presumably a Logic update, but could be Monterey), they stopped working. Of course they are all GUI Scripting so vulnerable to breaking if the UI changes, but it doesn't look like anything has changed.
Here is a short, heavily simplified version of a sample script to set fade type to EqP:
tell application "Logic Pro X"
	activate
end tell

tell application "System Events"
	tell process "Logic Pro X"
		
		set _TracksWindow to title of first window whose title contains "- Tracks"
		
		tell pop up button 1 of row 14 of outline 1 of scroll area 1 of group 1 of list 1 of group 2 of window _TracksWindow
			click
			delay 0.2
			click menu item "EqP (Equal Power Crossfade)" of menu 1
		end tell
		
		
	end tell
end tell

This used to work, but now it throws up an error saying it doesn't know what "menu 1" is.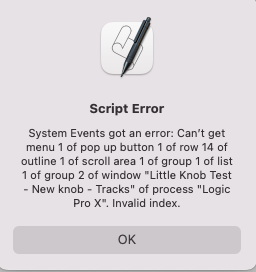 All the 'directions' up to that point seem to be fine (the error only comes at the "click menu item" line) so I don't think any of the row/area/group/etc numbers are wrong. Interestingly it does seem to 'click' the pop-up before it throws the error (see screenshot - it halts with EqP still highlighted).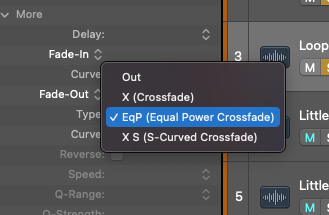 I'm pretty stumped, as it seems to locate the pop-up fine, but then fails when I try to actually select something from it. Can anyone see why it doesn't work?
Thanks!