For checkbox, is it possible to define another name for display other than the variable name?
I want to use Local variables as possible. But the checkbox does not look nice and intuitive if it always has a "Local" prefixed to it.
In the following screenshot, I would like the window to show Send to Section, Send to Class, Post Date, instead of Local_sendToSection, Local_sendToClass, Local_postDate.
Actually I have another question for checkbox (not sure if it worth opening a new post): Is it possible to make only one checkbox checked? For instance, if I check Local_sendToSection, then Local_sendToClass will be automatically unchecked.
Edit: I'm aware that a dropdown menu can accomplish this goal. But the disadvantage of a dropdown menu is that I have to click it to see all available actions, and it takes another click to choose an item other than the default one.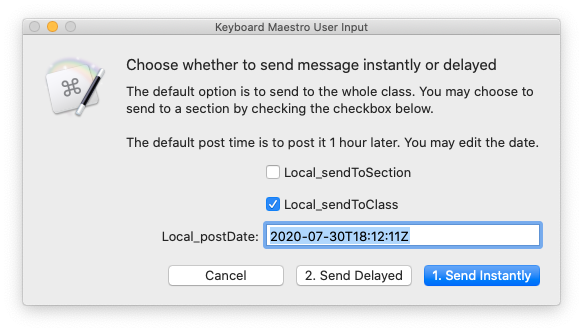 Thanks!