An IT associate has provided a test page to gather variables from an intranet Chrome page. The disabled Action is working fine. I've added a "Set Variable" to the attached macro for testing purposes.
The JXA to convert the JSONstring to a JSONobject and parse into variables is not working. "currentPIN" variables is created but is blank.
Is something wrong with the JXA script? I'd appreciate your expert advice.
Execute a JavaScript For Automation.kmactions (1.0 KB)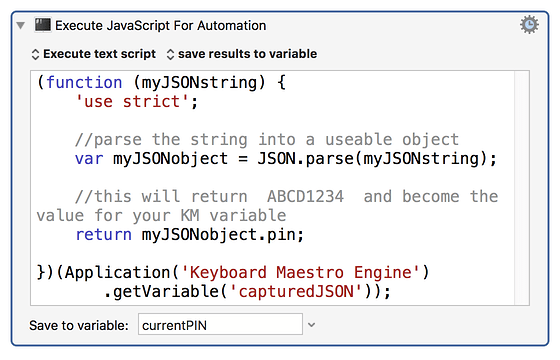 (function (myJSONstring) {
    'use strict';
   
    //parse the string into a useable object
    var myJSONobject = JSON.parse(myJSONstring);
 
    //this will return  ABCD1234  and become the value for your KM variable
    return myJSONobject.pin;
 
})(Application('Keyboard Maestro Engine')
       .getVariable('capturedJSON'));

The "capturedJSON" string Variable is:
{name:"John Smith", pin:"ABCD1234", location:"ABC Funeral Home"}