I am having issues creating a macro to copy a range of excel cells (with text in them) and pasting the text from each cell individually into different places in pages. I have used information from other posts to try and create this but am still having issues. (Copy & Paste from Excel Cells to Individual Clipboards).
The purpose for this is to move quotes from an excel list to my planner which I print termly. I update this quote list as I find new quotes that I want into my planner planner template. I am still compiling the list of quotes and will have over a 100 once complete.
For the purposes of illustration I have include included screen shots of sample excel sheet with just 3 quotes and in turn the pages document with just 3 pages with relevant locations to insert the quotes
This is how I am trying to do:
Select the relevant cells in excel
2 Capture these separate cells and save to variables using action 'search using regular expression'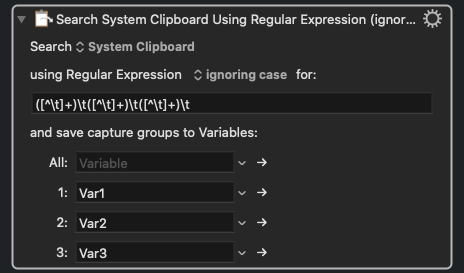 This action is not working - I took this action from the macro outlined in this post (Copy & Paste from Excel Cells to Individual Clipboards)
I think it is in this action where something is going wrong.
I then want to be able to use the 'find and replace' function in pages to then paste these variables into a pages template I have created

To do this I activate pages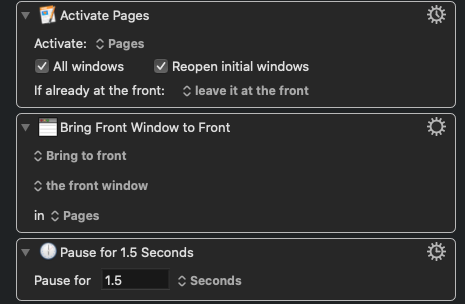 Then I use the find and replace function and insert the variables into the relevant places in my pages template. I repeat this set of actions for each variable - I have used this set of actions together with the 'prompt for user input' so I know this bit works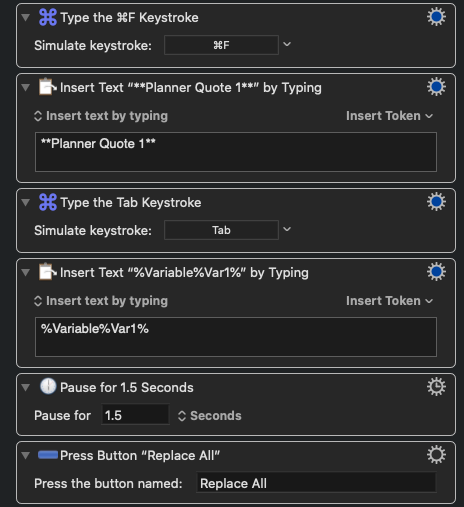 Any help appreciated.