Hi,
I'm having a very mysterious issue with a button CSS.
If I put the CSS in the HTML file, it works fine.
If I put the CSS in a separate CSS file. The preview in Finder works fine. But the Custom HTML Prompt file does not render the CSS for one button, and only that button--the Restore button (see below for screenshot of the preview in Finder and KM action).
If I move the HTML file and the CSS file to another folder, the Custom HTML Prompt action in KM also works fine. I just copied the files to the new folder and did not change anything in both files.
My original folder is: ~/Dropbox/Scripting/KM/html/PHPMailer_Markdown.html.
My new test folder: ~/Downloads/PHPMailer_Markdown.html.
Can someone help me find out what's going on?
(I thought there were some errors in my HTML or CSS code until I moved them to the "Downloads" folder and found out it works just fine. This has driven me crazy.)
Thanks!
My HTML and CSS file:
PHPMailer_Markdown.zip (3.8 KB)
In Preview: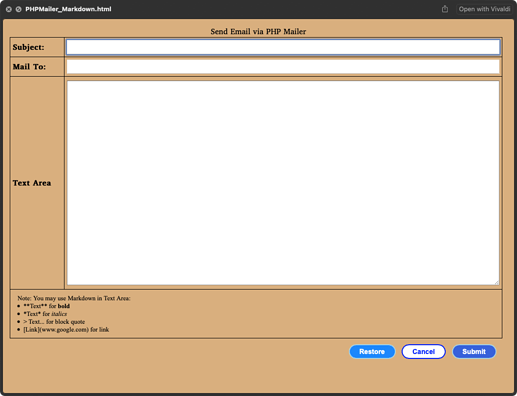 In KM (file placed at original folder):