In response to a feature request, I tried to design a solution for managing custom macro icons.
Icon Manager.kmmacros (109 KB)
Macro screenshot
Download this folder of arbitrary icons for testing:
KM Custom Icons.zip (667.8 KB)
Place it somewhere safe and add its path to the green action in the macro.
Icon Chooser
⌥⌘I will present you with a grid of icons that can be refined by searching for text contained in the icon filenames.
Click an icon for it to be pasted into the current macro's icon well, or if you prefer to go mouse-free, you can also navigate the icon grid using the arrow keys and hit ↵ instead.
Saving a new icon:
⌃⌥⌘I will present you with these options for creating new custom icons:
C - The image on the system clipboard.
A - An application icon.
I - An image file.
S - Search for icons at icon-icons.com.
You can also create a new icon from the Icon Chooser by pressing the + button.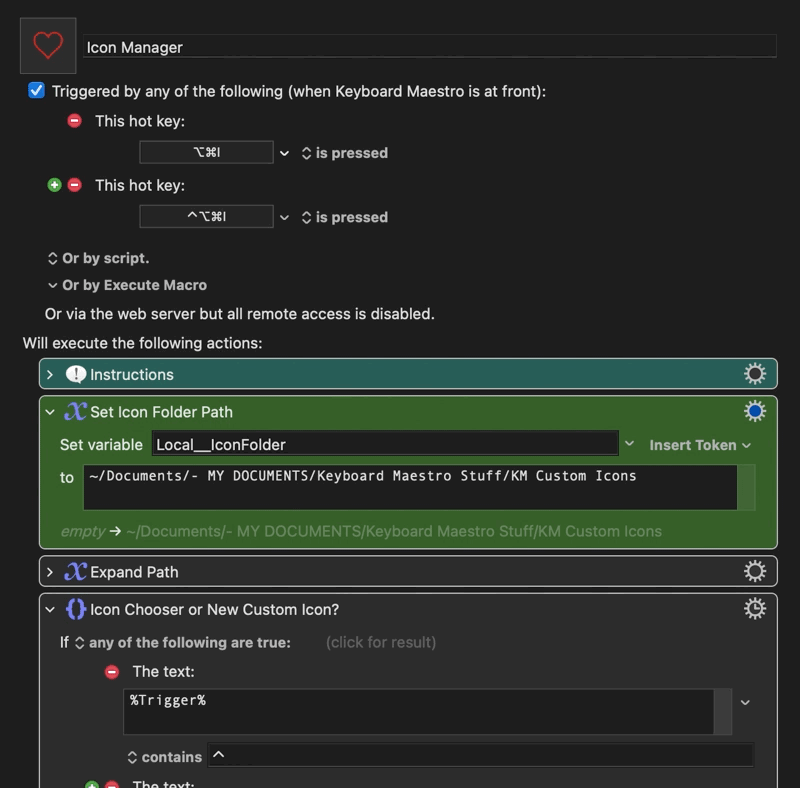 Any issues or suggestions, please let me know.
---
Additional tool:
The following macro will copy the icon of every app in your /Applications folder to the path you enter in the green action. You may wish to set this like so:
<Path to main Custom Icon Folder>/App Icons
This way, you'll have a dedicated folder just for app icons, which may help keep a large collection of icons manageable.
Icon Manager - Grab All App Icons.kmmacros (52 KB)
Macro screenshot