Hi Peter,
This:
Berns-iMac:~ BernsHome$ defaults write com.stairways.keyboardmaestro.engine CustomPaletteTheme "30,9,18, 36,3,68, 36,3,68"
Produced this:
2019-04-16 06:18:25.887 defaults[61987:13062036] Unexpected argument 36,3,68,; leaving defaults unchanged.
I started with RGB values 46,44,42 and 174,172,169 and got the HSB values from http://www.workwithcolor.com/color-converter-01.htm
Also, I only use palettes with icons so the background color is all I'm interested in. For understanding, what are the text and highlighted text elements?
Lastly, what's I'm playing with here is to get the palette color to match the Mojave dark mode Finder window frames to see it that works.
Here's hopefully some clarification: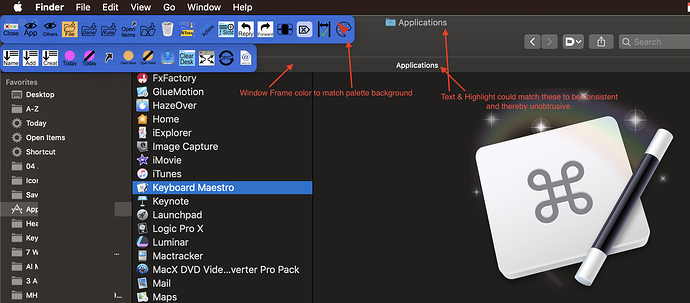 Thoughts?