Hello Folks,
In an effort to try to help someone, I got stuck.
For the most part, I know how to use basic ICU tokens. However, I do not know how to add days to a date other than Today's date. For example, if using the drop down date format, within the Prompt for User action, I don't know how to use that variable, to add days, in an %ICUDateTimeFor% token. So if I select, 10/3/2023, I don't know how to use that Local__Date variable to add 5 days and display 10/8/2023.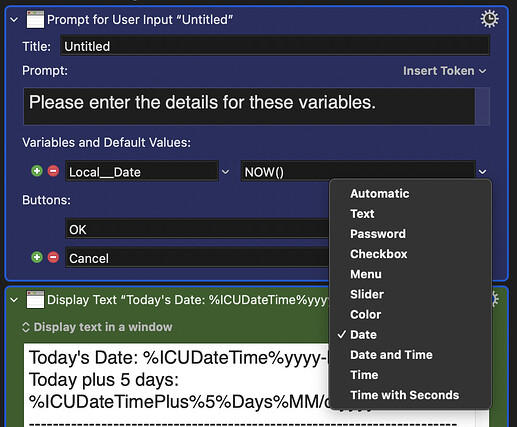 Macro Image- - Where it says Help is where I need the date displayed in the yyyy-mm-dd format.
Here is the macro:
Date and convert - Demo.kmmacros (4.6 KB)
If you can help, thanks as always.
KC