Problem:
What is the best way to detect, from a KM macro, the locale ($LC_CTYPE) setting in a users's Terminal.app /bin/bash settings ?
(not the same as the LC_TYPE value in KM's Execute shell script /bin/sh
Context:
The character count given by the bash wc -m filename in a Keyboard Maestro Execute a shell script action can differ significantly from that given by wc -m in Terminal.app, and this means that scripts which work well in Terminal.app may behave incorrectly in Keyboard Maestro.
This is because the user's default /bin/bash locale (like the path settings in their .bash_profile) are not exported to KM's slightly different /bin/sh shell.
In particular, $LC_CTYPE might have the value "UTF-8" in Terminal.app, but have the value "C" in the KM '/bin/sh', and this will mean that wc -m in Keyboard Maestro simply falls back to the same return value as wc -c – making no allowance for multi-byte characters.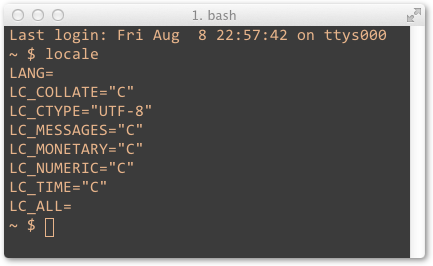 I would like to detect the Terminal.app setting, and export it into the KM /bin/sh context.
Any thoughts on a clean solution ?