I have an IF THEN action to see if a particular macro is running (I would say that the macro is "Active"), but whether I pick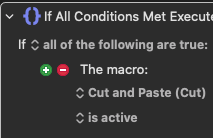 Or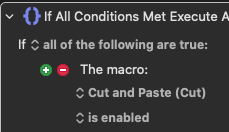 Even if the macro "Cut and Paste (Cut)" is not running, I get the same result after that, which is to show me a Notification action.
I was assuming that "Active" would mean that the macro was running, and "Enabled" was just that the macro was enabled inside the macro group.
Am I missing something here?