Hey JM,
BTDT.

Display Keyboard Maestro Variable Preference Pane.kmmacros (5.0 KB)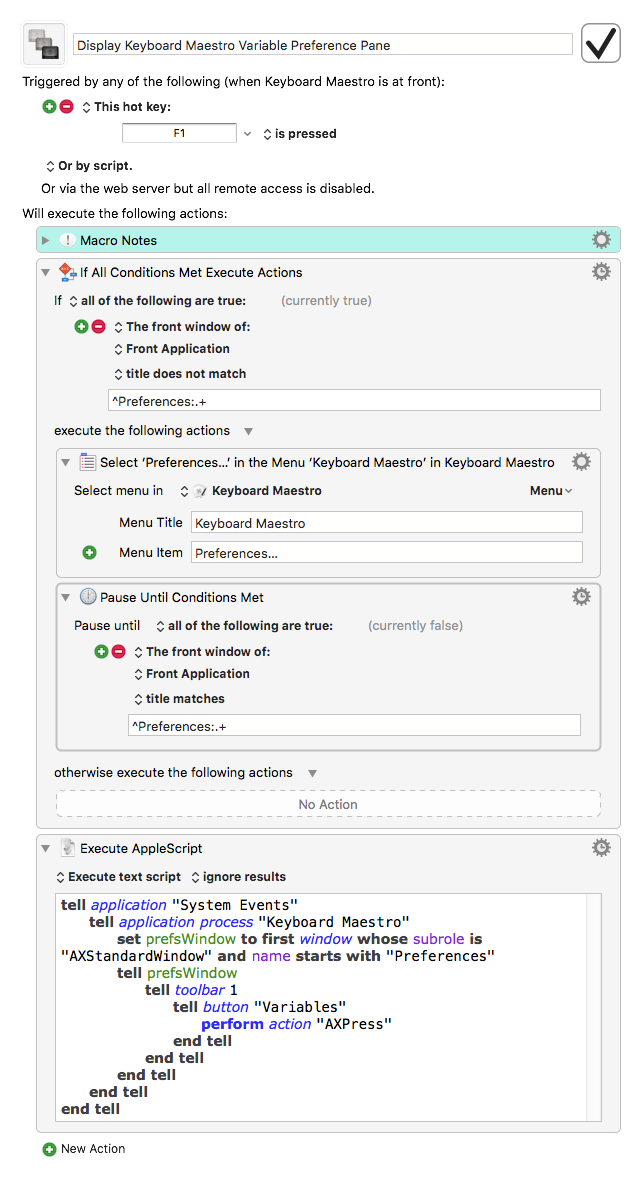 ⌘F works to access the search field of the variables pane.
-Chris
Chris, thanks again for a great macro.
I have made a few tweaks to suit my preferences.
Thanks to Chris, my small changes were easy.
Here's my version:
MACRO:   
@KM

Search KM Variables in Preferences

--- VER: 1.1    2016-12-03 ---
DOWNLOAD:
@KM Search KM Variables in Preferences.kmmacros (9.5 KB)
---
ReleaseNotes
PURPOSE: Search for KM Variables using KM Preferences Search Box
Note: Macro was uploaded as "Disabled". You will need to "Enable" in order to use/trigger.
AUTHOR:
VER 1.1 CHANGES:
ADD ⌘F Keystroke to end to put cursor in Search Box
IF Preferences Window already exists, just Bring to Front

To do this, the IF/THEN was changed

TRIGGER: Changed to ⌘, (remaps std show Preferences)
All of the credit goes to @ccstone for the heavy lifting.
I just make a few adjustments.
I also changed the Macro Name (just my pref).
Any/All errors in the macro are mine.
TAGS:
@Variables
@Search
@Preferences
@KM
VER 1.0
Authored by Christopher Stone scriptmeister@thestoneforge.com
2016/12/03/ 1:02 : Created
2016/12/03/ 1:02 : Modified
---