I use Shuttie when I want to go to bed and leave my mac doing something for a while.
I figured this might be the kind of thing that one could build in KM. Anyone fancy figuring it out with me? I'm imagining:
Triggering the macro presents you with a prompt like this: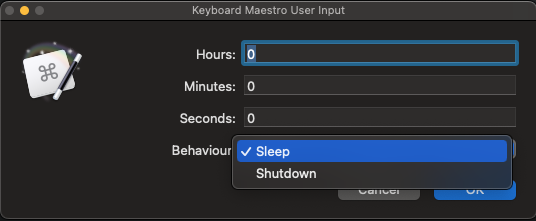 Once you hit enter, a window appears on screen with a timer counting down. It has a cancel button on it in case you change your mind, but if the timer runs down, your mac sleeps or shuts down.
I guess this second bit would require some knowledge of custom html prompts, of which I have none! Anyway, just putting it out there...