Keyboard Maestro supports double tapping a modifier key by using the USB Device Key trigger.
Double Tap Control New.kmmacros (2.2 KB)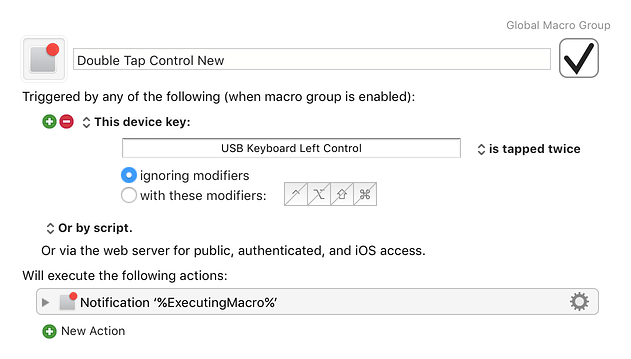 Prior to version 7.0, Keyboard Maestro did not support the tapped twice modifier for Hot Key and USB Device Key triggers, but there are two ways you can accomplish this if desired. Either way, you use a USB Device Key trigger to trigger on the press of the control key.
The first way is to keep track of the time the macro last fired, and only perform the macro if it was fired recently.
The second way is to have two (or more) macros, only one of which is enabled. The first one simply disables itself and enables the next one, pause a while, and then enables itself and disables the second one. The second one disables itself, reenables the first one, and then performs the action.