Hi all, I'm pulling my hair out on this one, maybe someone can help.
This question is more about terminal commands in general, I think, but it applies to a macro I'm working on in KM with Execute Shell Script.
I am using Maestral (the great lightweight dropbox client for mac), and trying to use Execute Shell Script in Keyboard Maestro to generate and capture share links.
Here is the shell script I'm running, which mostly works fine:
/usr/local/bin/maestral sharelink list '10_42_21.pdf'
The result is the shared links for that file, but since it's formatted in a table view, the column containing the link is truncated with: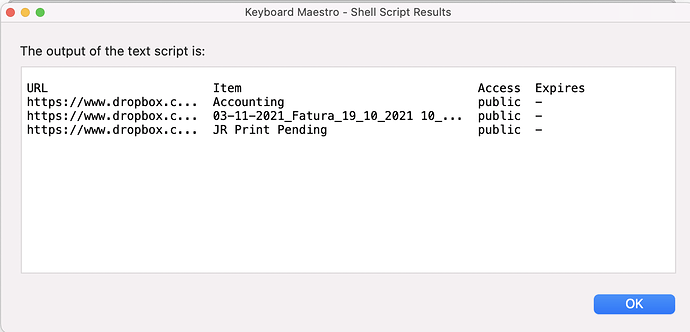 I've tried resizing the window and even writing to a text file, but I can't get it to show the full links.
When running the command in mac terminal, the results are truncated depending on the width of the terminal window.
I'm not great at terminal commands, but maybe there is something that can do one of the following:
set the max width of the table
wrap the columns so all the text displays
output the table as simple text (exploding it into separate rows or something)
Thanks in advance for any tips!