@peternlewis, as you mentioned in another thread, it is more beneficial to just add direct scripting support for things like the KM Status Menu, and the KM Editor Buttons, than to mess with changing the UI.
I have no idea how hard it is to implement this scripting support. If it is very hard, or very time consuming, please let us know and we can try to prioritize the functions to make scriptable.
To be clear, I'm referring to these items:
###KM Status Menu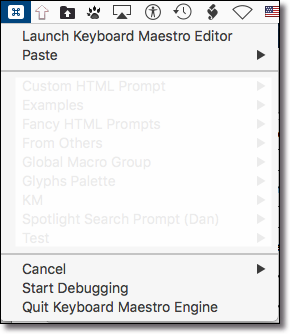 ###KM Editor Buttons

---
The KM Status Menu is virtually inaccessible now via UI scripting, so perhaps the functions in it could be done first.
I think Chris (@ccstone) has now written UI scripts for most, if not all, of the KM Editor buttons, so they are less urgent. Of course, we all know how fragile UI scripts are.
@ccstone and @DanThomas, and all: Please jump in here if you view things differently and/or have other functions and priorities.
Thanks, Peter.