I wrote a macro for Bear that changes the sorting order of my notes from reverse chronological to reverse alphabetical. I had to use a combination of Keyboard Maestro and AppleScript (first time ever using both!) that feels unnecessarily hacky, and I was wondering if folks could help me clean up my macro.
The macro opens the Preferences window from the Bear menu via Keyboard Maestro, clicks the second popup menu ("Notes List Sorting") and selects "Title" via AppleScript, then clicks the switch, "A to Z," using a Keyboard Maestro mouse action.
Here's what the Preferences window looks like: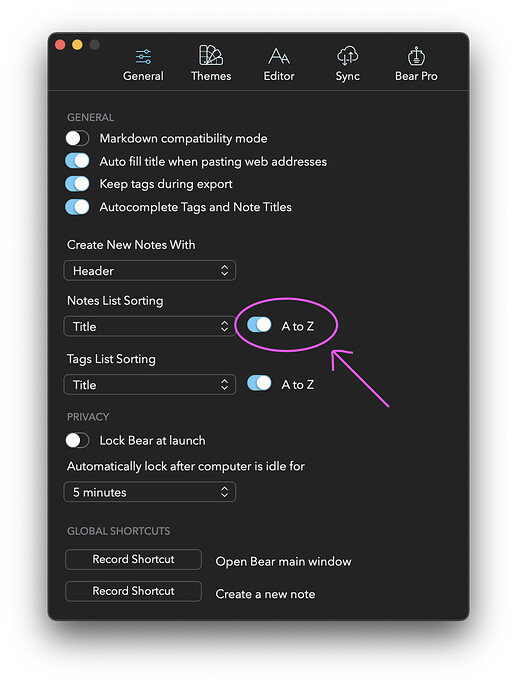 And here's my AppleScript for selecting "Title" from the popup menu:
tell application "System Events"
	tell process "Bear"
		set frontmost to true
		tell window "Preferences"
			tell group 1
				tell pop up button 1
					perform action "AXShowMenu"
					click menu item "Title" of menu 1
				end tell
			end tell
		end tell
	end tell
end tell

I have two questions:
Can I click the "A to Z" switch directly in AppleScript (rather than using the KM mouse action)? I tried using Accessibility Inspector to find an element for the switch, but hovering over it doesn't reveal anything, and a Google search didn't turn up anything either.

Alternatively, can I rewrite the whole macro solely in Keyboard Maestro without using mouse actions?
Thanks for your help!