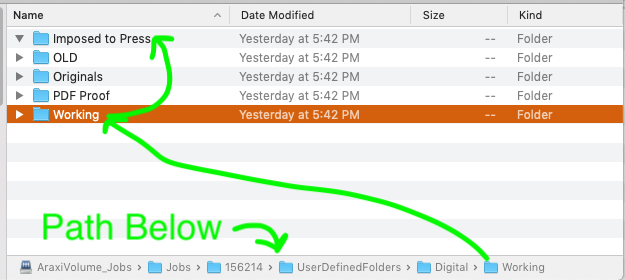 I attached a screen shot of the server folder hierarchy that we use between several people at work. I am trying to get a pdf from one folder "Working" to the "Imposed to Press" with an _words to the end.
File path started from is were I am missing something. Is there a way to get the filepath.
Example: AraxiVolume_Jobs/Jobs/156214/UserDefinedFolders/Digital/Working/156214.pdf
The above PDF would be copied with a new name 156214_Rev.pdf to the "Imposed to Press" folder inside the same job.
I have been trying to use a watched folder that would get the path and that works except I can only get it to go to a different static out folder. I need it to pick up the complete path (Of were the dropped folder came from) Except the /Working and that would be the variable and I could replace the /Working with /Imposed.
What is the best, or anyway to get the path variable with out the current folder.
Final Outcome would be 156214_Rev.pdf inside the "Imposed to Press" folder
Any help would be greatly appreciated.