So I finally bit the bullet and updated my OS to a current version. Mojave really was a golden build for me in that I loved the desktop environment, it was highly compatible with legacy drivers and software and bloat was minimal. But it was time to move on, as professional apps I rely on were starting to drop support. I expect to have to re-jig some macros and that's fine.
One very basic one that's giving me issues is a set of keyboard commands I use to navigate the focused Finder window to specific directories. I've been pasting a named clipboard into the Finder Go to Folder... prompt and simulating a Return keystroke and this has worked for me for many years. I prefer it over the Open a File, Folder or Application action because that opens a new finder window when I would rather keep my screen space tidy.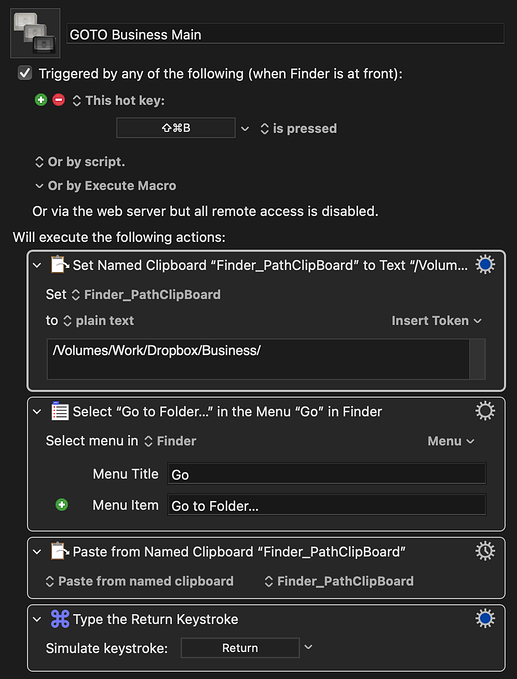 Now in Monterey, the macro calls Go to Folder... successfully but fails to paste into the dialog. The clipboard is loaded and I can paste manually without issue. I can use the Pause action to correct for this but would prefer to keep things as speedy as possible. I've disabled UI animations in System Preferences but the macro still won't trigger without introduction a pause.
I guess my question is whether I can execute the Open Folder,[...] action without opening a new window, or if not, how can I best optimize my existing macro for speed?
Thanks as always for your patient guidance.